As we've mentioned elsewhere on this site, because drugs like rapamycin for anti-aging are not covered by insurance, people are increasingly looking outside their home countries to purchase them. Specifically, people are looking for the best value (i.e. lowest prices) for their prescription medications due to the high cost, especially in the USA. The US has the highest drug prices in the world due to the combined effects of lack of competition and limited price regulation (due to lobbyists). In fact, prescription drug prices in the USA are 256% higher than in other industrialized countries.
Below is the process that people are communicating to us has worked well for them to obtain the lower cost medications, specifically rapamycin (sirolimus). We've heard of successes in receiving shipments to the USA and England / UK, Taiwan and some in Europe. If you live in another country and order and receive medicines from India please post a message to let others know.
Please also see the 4-page Valisure Lab analysis performed on the rapamycin (Biocon Rapacan and Zydus Siromus) from India that one user had analyzed - at the bottom of this article on generic medicine quality.
Step 1. Determine the brand of rapamycin / sirolimus you want to purchase. Read this about the different brands and names of rapamycin.
Step 2. Review the list of vendors of rapamycin that people have had success with. We have a page with a list of online pharmacies (no prescription required) that forum members here have received shipments from without problems: List of reliable online pharmacies
Step 3. Compare prices (exchange rates for rupees to US$ are around 75 to 1 US$ these days, at the time of this writing). Rapamycin (sirolimus) typically comes in what are called "strips" or small packages of 6 or 10 tablets per package. Most commonly you find the tablets are 1mg per tablet, but you can also find 2mg or other dose levels. To make sure all your price quotes are comparable be sure to calculate the cost per 1mg tablet.
Step 4. Questions people ask prospective vendors:
Do they ship to your country?
Do they guarantee you will get the product (some companies will reship your product if it doesn't get delivered (e.g. held up in US customs).
Do they require a prescription? (do you have a prescription?) - this impacts shipping options - see "Shipment method" below.
What is the manufacture date and expiration date on the sirolimus that they are selling?
What payment methods do they accept? (Typically they operate by wire transfer - which costs in the range of $45 per wire transfer for international wire transfers from the US - for example from Wells Fargo). Most US banks offer the ability to send wire transfers directly from the web interface of your bank account (when you are using online banking). Much cheaper wire transfer procedures can be done via some of the Internet wire transfer websites like Wise.com, Tazapay, and others listed here and here.
Shipment Decisions:
If you have a prescription you can have your package sent to you by the standard methods of either DHL, Fedex or IndiaPost EMS. IndiaPost EMS/Speedpost works fine, but it is a slower and less costly method of shipment. Typically it takes 2 to 4 weeks to get your package using IndiaPost EMS/speedpost to the USA. Shipment by DHL or Fedex require that you have a prescription (and that prescription information must, I believe, be sent with the package - so you would also have to communicate it to the Indian pharmacy you are purchasing the product from.
Most India online pharmacies do not require a prescription, however if you do purchase without a prescription then the package must be sent via IndiaPost EMS/Speedpost because it is the only shipment services that does not require that you have a prescription.
The shipment typically comes in a plain brown paper-wrapped box wrapped with a lot of tape. The source company may or may not be listed on the package (sometimes it just has the name of the person shipping - and looks like a personal package). Notice in this below photo, the package has been opened and inspected by US customs - you can see the green tape that shows this. It seems they are primarily looking for controlled substances.
Here are some example photos of the type of packages you might expect to receive.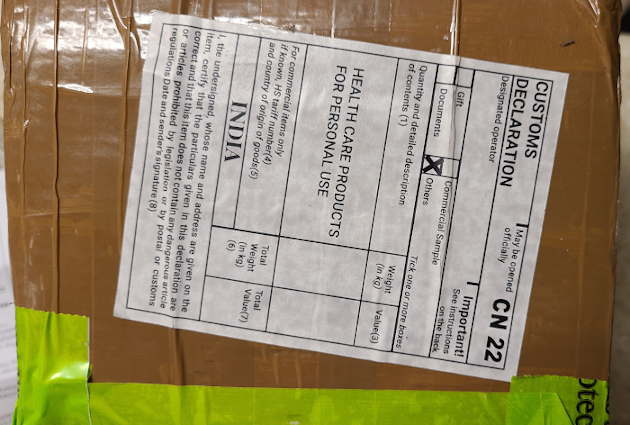 Inside the package, the Zydus sirolimus is typically packed in groups of 15 boxes of "strips" of 6 tablets each. So 90 tablets (1 mg each) in one of these boxes - about 5 inches long by 3 inches high. People typically order about 360 tablets as that seems to be around the right number that the US customs seems to find acceptable for personal use. Don't worry too much about expiration dates - they don't mean much in these types of medicines (see this article: Drug expiration dates, the myth and reality)
and inside the Zydus package: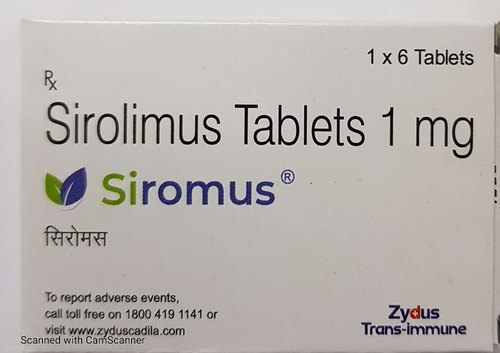 Inside each of these boxes is what is called the "strip" of 6 tablets in bubble plastic/foil.
Here is what the older Zydus packages looked like - they seemed to have been phased out in 2020, but people are still selling them.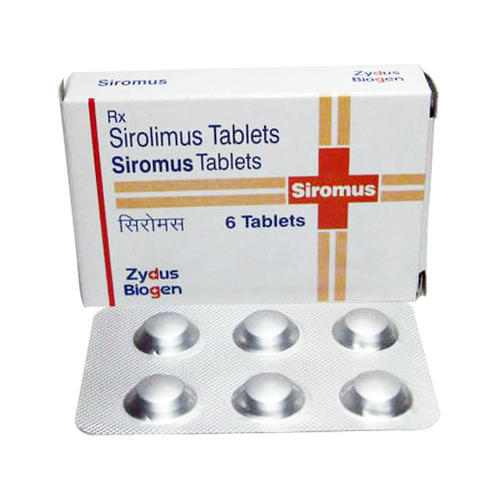 If you live outside the USA, you'll need to check on the rules and regulations specific to your country regarding importing prescription medicines. If you live in the USA you should read this article on the topic of importing prescription medications, on the WebMD website:
The Letter (and Spirit) of Drug Import Laws
What the FDA actually says about personal importation of medicine from other countries:
Another reference on medicine importing:
In most circumstances, it is illegal for individuals to import FDA-approved drugs from other countries for personal use. However, based on changes enacted by the MMA, personal importation of prescription drugs that have not been approved by the FDA for use in the U.S. is permitted on a case-by-case basis. Under this statutory authority, FDA has put out guidance that lays out certain circumstances where importation of non-FDA approved drugs for personal use might be allowed. For example, personal importation is generally allowed if the treatment is for a serious condition, there is no effective treatment available in the U.S., and there is no commercialization of the drug for U.S. residents. Typically, only a three-month supply is allowed, and individuals most confirm in writing that the drug is for personal use and provide information about the physician responsible for their treatment.

There appears to be little enforcement by the FDA of the ban against importing FDA-approved drugs for personal use. Even if the personal importation of a drug is technically illegal, current law directs the FDA to exercise discretion in permitting personal importation of drugs when the product is "clearly for personal use, and does not appear to present an unreasonable risk to the user," which is reinforced in FDA guidelines.
Source:
The practical realities of importing medicines into the USA:
The reality is that most of the time if a person imports medicine from other countries - if the quantity is not too large, and its obviously for personal use, it will probably arrive at your doorstep and you won't have any issues. We've heard from a number of people who have ordered between 200 and 360 tablets of rapamycin / sirolimus at a time from the internet pharmacies in India, and have done this half a dozen times or more and never had any issues. As long as you don't order too much, it seems you have fewer issues.
We have also heard from some unlucky people who had their first shipment was confiscated by customs in the USA. We don't know what percentage of packages that US customs checks inside, but most people seem to think its in the low single digits - e.g. 1% to 3%. The worst we've ever heard is that the medicine is confiscated and you get a letter from customs like this letter shown below, and you've lost your money. We suspect that the person who had their product confiscated in the below letter might have been importing too many tablets at once (600) for the customs officer to accept as personal use.
---
The manufacturers and names for rapamycin are as follows:
Zydus Cadila (sometimes identified as "Zydus Biogen) - brand name "Siromus"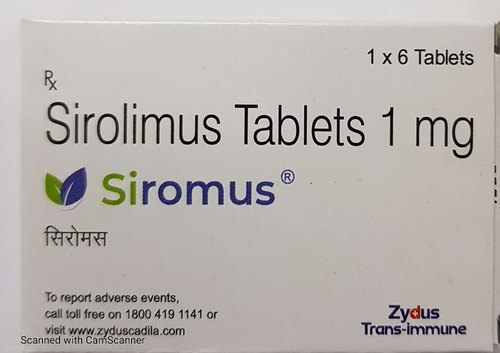 Biocon - brand name "Rapacan"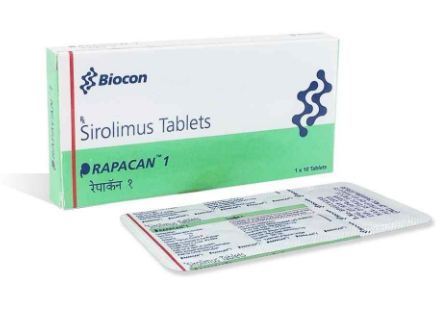 Rocas - "Sirolimus tablets" on the box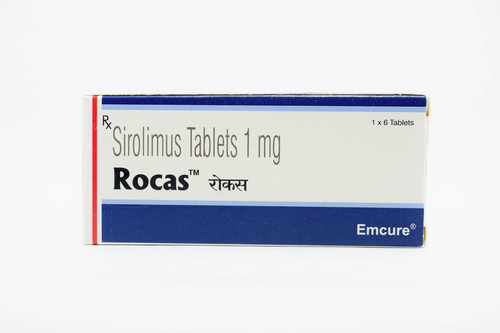 Panacea Biotec - brand name "Siropan"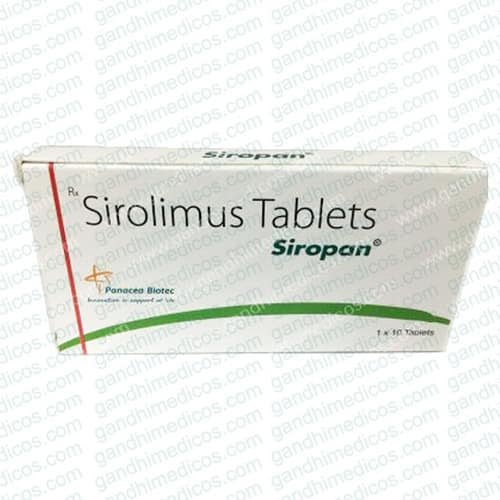 Actiza - generic name "Sirolimus tablets"