@morlock mentioned that he's using everolimus instead of sirolimus / rapamycin, which I'm finding really interesting because its the first time I've heard of a person using everolimus. How is it going? How does it compare to rapamycin / sirolimus (have you tried both?).
For those new to the topic - everolimus is a rapalog that Novartis developed to compete against rapamycin. It is almost identical to rapamycin, but slightly different so that they could patent it and sell it in competition with rapamycin (Pfizer Rapamune). It should operate and provide the exactly the same lifespan benefits as rapamycin - though it has not been proven or used in these studies yet - perhaps primarily because it was still on-patent until a few years ago.
He mentioned in another post:
Another option is to use Everolimus from Indian sources as 10mg doses are much easier to obtain. From my reading Everolimus seems to dose 1:1 with Rapamycin.
I've just received my first 10mg x10 box manufactured by Glenmark which was $60 +ship. I have no purity data though, so I'm reluctant to call it a perfect option.
This is really interesting from two points - the price is really good - Morlock, correct me if I'm wrong, but it sounds like you got 10mg X 10, for $60, which would work out to $0.60 per mg, a pretty good price - especially for everolimus, which is much more recently off-patent than sirolimus / rapamycin.
Also - I've read that everolimus is interesting also because the 1/2 life of the drug is much shorter than rapamycin - about 28 hours for everolimus, vs. 62 hours (typical in transplant patients) to 82 hours (in healthy younger patients) typical for rapamycin.
I've seen scientists argue that this could be useful and allow higher dosing of the drug, for better anti-aging effects because you don't have to worry as much about the higher trough levels over the long term that can cause mTORC2 inhibition. So the strategy might be to dose it higher, and a little more frequently than rapamycin / sirolimus which could theoretically result in better life extension effects.

Here is the 1/2 life blood sirolimus levels you see with rapamycin vs. what you would see in everolimus.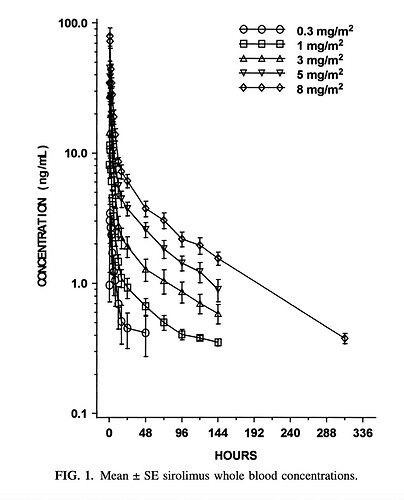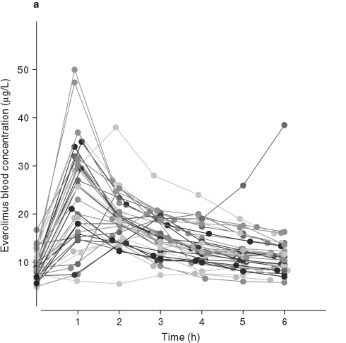 Has anyone else tried everolimus? Any comments on your experiences with it?