Many people like the idea of reversing gray hair, and regaining their youthful hair color and thickness, or preventing gray hair entirely before it starts. The topical drug treatment program outlined below was developed by RiverTown Therapeutics and has some reasonable clinical data and photographs that demonstrate some significant results (scroll down to see images). So, I've pulled this post out from the "Rapamycin for Hair and Skin" thread, to make it easier to see, and because I found some additional information on the compounds used in the related studies.
The drugs mentioned in the research below; Tacrolimus, and Cyclosporin (and Tofacitinib mentioned in the twitter thread below), are generic drugs that are easily and inexpensively available at the reliable Indian pharmacies without prescription, just email them for price quotes and see our section on importing medicines. Another compound mentioned (below), called RT175, is a drug/compound first identified by Guilford Pharmaceuticals (for a different application) and called GPI 1485, and while not FDA approved for anything yet, it is available from lab supply companies and probably china-based suppliers (but it may not be needed). David Sinclair in the video below is suggesting that Tacrolimus is basically the same as GPI 1485, so just use that instead.
DIY RiverTown Anti-Gray Hair Serum
It is relatively easy for anyone to create this formulation at home by using the off-the-shelf minoxidil solution as the starting point and add the different compounds (powdered and mixed, very similar to how people are creating their own rapamycin skin cream. For convenience, I've also written up instructions on how you could make this topical anti-gray hair serum here, but I recommend you read the full DIY rapamycin skin cream thread which includes a list of additional things you may want to buy.
The startup company behind this research; "Rivertown Therapeutics", never gained the funding it needed, and was shut down a year or two ago, so the product is not going to be developed as a commercial product anytime soon. But, the research and commentary below may be of interest to people who want to leverage the knowledge for their personal use and benefit. Below in some twitter posts are some additional comments on the idea that alopecia may be, in part, a low grade auto-immune disorder, thus perhaps a rationale for why topical rapamycin seems to help (and why topical tacrolimus and cyclosporin also seem to promote hair growth).
An interesting biohacker test would be to try this formulation in two different scenarios:
Preventing the ongoing development of gray hair; ideal for any people here who are just starting to get gray hair,
Reversing Gray Hair: For those who have a moderate to substantial amount of gray hair.
If you try this, please take pre and post photos of your hair, and report back any results. And if you want to go all in on hair growth, you could use the other compounds that have significant evidence for hair growth, and use micro needling, as people in our forums are doing already: Rapamycin-Loaded Microneedles Reverse Hair Loss in Mice , and Minoxidil Tablet, not lotion, for Hair Growth
Harvard Genetics / Longevity researcher David Sinclair talks about the Rivertown research on reversing gray hair in a recent podcast episode. He specifically brings up the Tacrolimus + CyclosporinA + Minoxidil research paper we link to below, out of the University of Alabama. The Video is queued up at the correct time below for this discussion: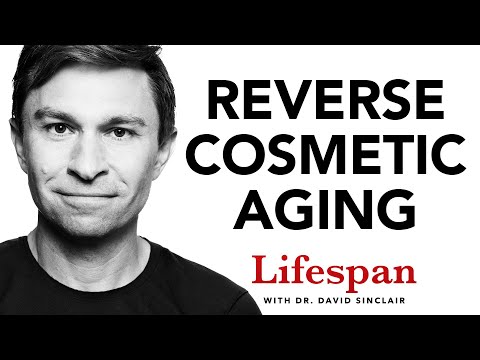 Rivertown Therapeutics was started by Dr. David Weinstein:
Weinstein is a neuroscientist specializing in spinal-cord injuries and nerve regeneration. Working in his lab, in his spare time, he developed a drug compound he called RT1640.

Then Weinstein began experimenting on himself. "I didn't tell anybody I was doing this, including my wife. And, after a couple of weeks, I said, 'Look at my head.' And she said, 'Your hair is growing. Why?' "

Weinstein has big dark eyebrows and a kind face. Kind of an Elliott Gould vibe. I looked at his head. There was a spotty, thatchy outcropping of gray-black hair. Not exactly an overflowing abundance, but hair, to be sure. "I had nothing on top," Weinstein said. "You can see—I grew my hair back! And it grew back more or less the color I had when I was young." (source: New Yorker article)
Examples of Grey Hair Reversal and Growth Results from RiverTown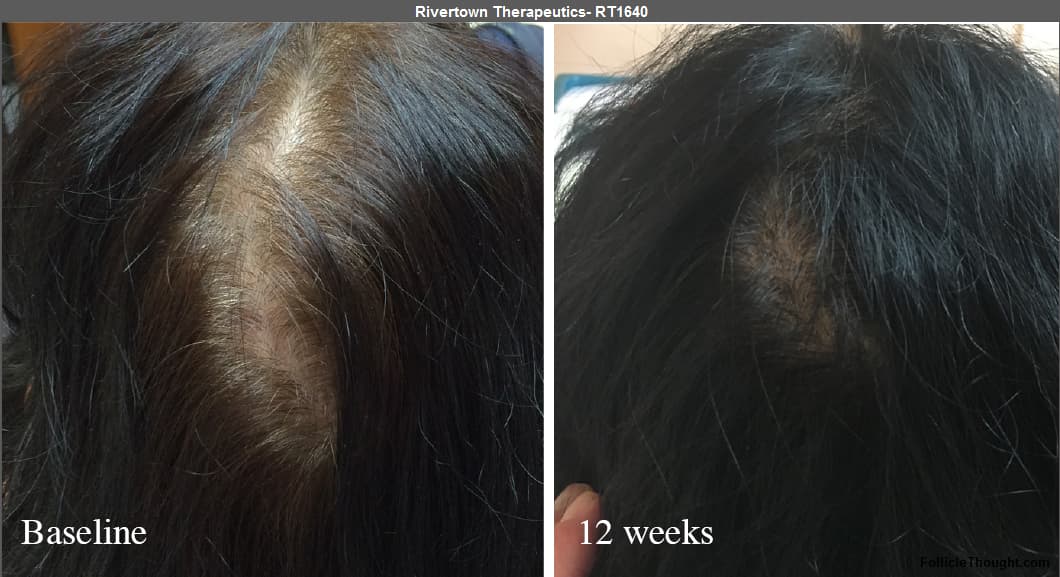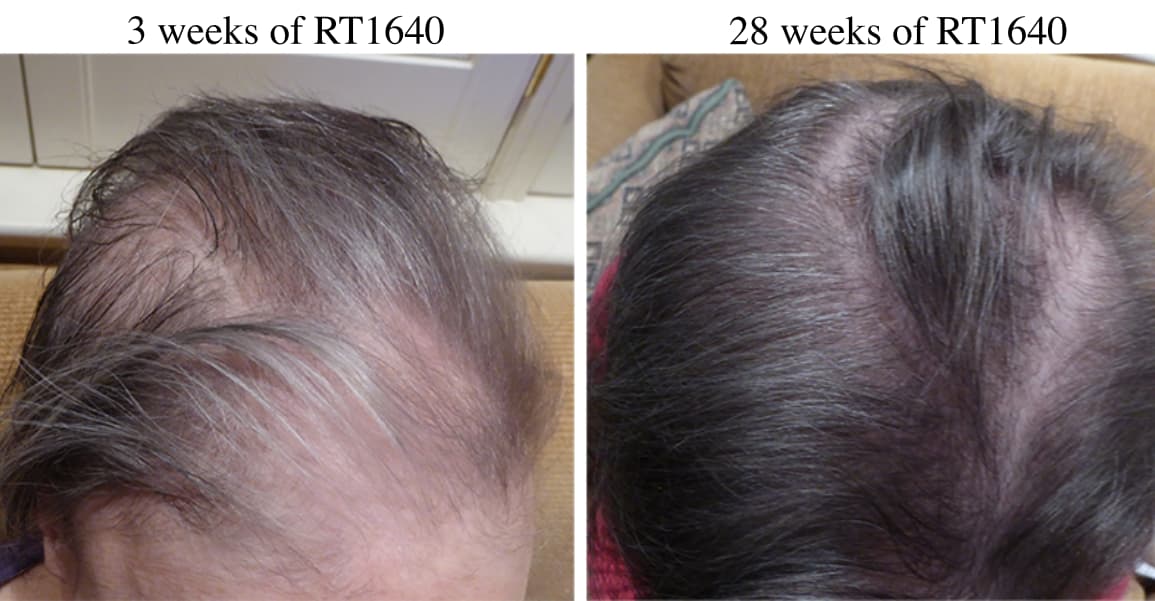 Topical RT1640 treatment effectively reverses gray hair and stem cell loss in a mouse model of radiation-induced canities
One potential combination therapeutic is RT1640, which is comprised of two drugs that are known to stimulate hair growth (cyclosporine A [CsA] and minoxidil), along with RT175, a non-immunosuppressive immunophilin ligand that is implicated in tissue regeneration. Using the ionizing radiation-induced acute mouse model of hair graying, we demonstrate that RT1640, over CsA alone, promotes regeneration of the hair pigment system during and following treatment. In non-irradiated mice, RT1640 is also physiologically active and successfully speeds hair growth and expands the McSC pool. It appears that this effect relies on the combined activities of the three drugs within RT1640 to simultaneously activate hair growth and McSCs as RT175 alone was insufficient to induce hair cycling in vivo, yet sufficient to drive the upregulation of the melanogenic program in vitro. This study sets the stage for further investigation into RT1640 and its components in McSC biology and, ultimately, melanocyte hypopigmentary disorders associated with disease and aging.
RT1640 consists of three drugs, cyclosporine A (CsA), minoxidil and RT175 (an immunophilin ligand). RT175 is a derivative of the immunosuppressant FK506 (also known clinically as Tacrolimus). Historically, FK506 was shown to have both immunomodulatory and regenerative properties that function through independent mechanisms. The non-immunosuppressive immunophilins ligands, like RT175, were developed to capitalize on the regenerative aspects of FK506 while avoiding the negative side effects associated with the immune role of this drug
Topical application of drugs to the skin
The composition of RT1640 is cyclosporin A (1.2mg/ml; Medisca NDC # 38779-0660-01), minoxidil (5 mg/ml; Medisca NDC # 38779-0574-05), and RT175 (120 ng/ml; manufactured for RiverTown Therapeutics, Inc. by Hovione FarmaCiencia SA, Lisbon, Portugal) diluted in 50:30:20 propylene glycol:ethanol:H2O. The Accepted Article composition of CsA is cyclosporin A (1.2mg/ml) diluted in 50:30:20 propylene glycol:ethanol:H2O. Gray-IR mice were gently shaved along their lower back and treated twice daily with the indicated solutions by smearing 150 l topically onto the lower back for 21 days. Both RT1640 and CsA induced hair cycling, and after treatment the mice were photographed to record visual changes in pigmentation of the newly grown hairs. These hairs were plucked an additional time to quantify the portion of pigmented and non-pigmented hairs and to initiate an additional round of hair cycling. Skins from these mice were harvested 7 days after the last hair plucking. Necropsy of these mice was also performed. Skin, lung, lymph, and brain was inspected for microscopic pigmented nevi that would be indicative of melanoma tumor formation. None were observed in any of the mice treated.
Full Research Paper (PDF) at link below:
Topical RT1640 treatment effectively reverses gray hair and stem cell loss in a mouse model of radiation-induced canities
http://sci-hub.wf/10.1111/pcmr.12913
Patents related to the compound RT175 mentioned in the paper above:
It seems that the startup company never got the necessary funding, and closed up shop in 2019 or 2020. Their website at rivertowntherapeutics.com is now gone, and their web domain is for sale.
Older write-ups on this topic:
There was some twitter discussion on RiverTown when it first started getting some press coverage: