This is an interesting study that looks at a range of doses for the rapalog Everolimus (which is thought by many researchers to be likely of having exactly the same longevity benefits as rapamycin as the molecules are almost identical).
Frequency of side effects start to rise quickly after 30mg per week (equivalent to a little lower dose in terms of rapamycin). This trial seems to suggest that many people may be able to work their way up toward 25mg+ per week or rapamycin (or close to 30mg everolimus) without too much in the way of side effects.
Was just reviewing an interview with the Novartis exec Lloyd Klickstein who was involved with the everolimus tests and the research papers. In the interview they mention what they believe is the dose equivalency of everolimus to sirolimus / rapamycin - see below:
In one experiment. Patients with polycystic kidney disease that were otherwise healthy, took the rapalog (RAD001) and a substantial fraction saw these biochemical changes in their blood

The dose was 5 to 10 mg a day (equivalent to approx. 2-8 mg of rapamycin)
Matt Kaeberlein has said he believes that there is no significant difference, operationally, between rapamycin and everolimus:
AgingDoc1 on Twitter suggests:
based on back-of envelope extrapolations from ITP; All suggest likely diminishing returns (vs side effects's & efficacy > than about 20mg to 40mg /wk) if rapamycin holds up to it's potential.
Side Effects as Dose Increases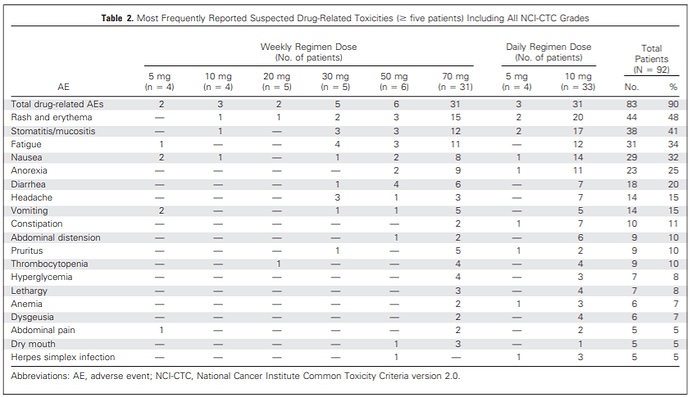 Link to Full Research Paper on Phase 1 Trial of Everolimus Dosing:
jco.2007.14.0988.pdf (142.6 KB)