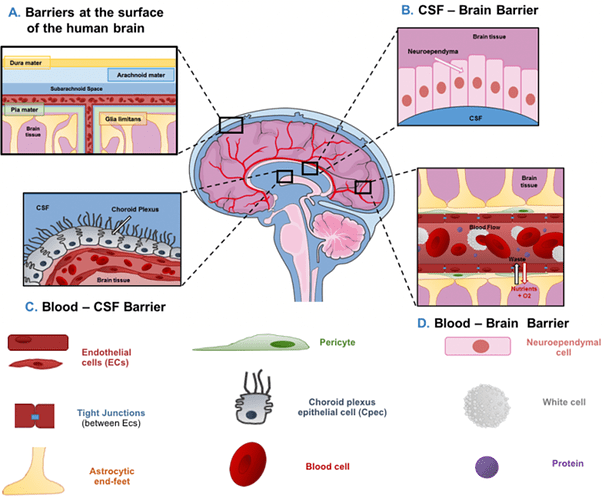 Over the past year or so I've head many times that Blagosklonny takes a higher dose of rapamycin (20mg+) every two weeks because (he's suggested) it helps increase the passage of the rapamycin through the blood brain barrier (and therefore increased mTOR inhibition in the brain), and I've asked him what research he based this on, but never got a response.
Today I just found what may be the information / conjecture that this belief is based on. Here is the quote and paper below:
The focus of this research study is in part to see the effect of rapamycin on the mouse model of Leigh Syndrome (LS), which has a significant impact on the brain, as specified below:
Leigh Syndrome (LS) is a severe mitochondrial disease that occurs in about 1:40,000 newborns and is associated with retarded growth, muscular deficits including myopathy and dyspnea, lactic acidosis, and a characteristic progressive necrotizing encephalopathy of the vestibular nuclei, cerebellum, and olfactory bulb (Budde et al., 2002, 2003; Anderson et al., 2008). Ndufs4 encodes a subunit of Complex I of the mitochondrial electron transport chain; mutations in the NDUFS4 gene cause LS in humans (Budde et al., 2000, 2003; Darin et al., 2001; Anderson et al., 2008; Quintana et al., 2010), and the Ndufs4 knockout (KO) mouse is a murine model of LS
conjectures on the rapamycin / Blood Brain Barrier issue that is widely discussed with regard to higher doses…
High-dose injection provided the greatest benefit to survival in the [mice]… the bolus provided by injection provides an enhanced benefit over steady dietary delivery in the mitochondrial disease model, perhaps by overcoming blood-brain barrier. Daily IP injection of rapamycin at 8 mg/kg alters neural activity associated with aging (Yang et al., 2012) and robustly reduces whole brain levels of phospho-s6, an indicator of mTOR activity
…
Effective inhibition of mTOR in the brain may be necessary for the full benefits of rapamycin in both Ndufs4KO mice and in normative aging.
Source: Dose-dependent effects of mTOR inhibition on weight and mitochondrial disease in mice