Increasingly people are looking at the scientific research on rapamycin for anti-aging use in dogs and are getting interested in giving it to their own dog, or other pet. The large Dog Aging Project study out of the University of Washington has revealed good early results, and the study continues.
I began giving my dog rapamycin in early 2021 (about a year after I started it myself) and so far we've seen no obvious side effects. I schedule her dosing identical to my own - so when I take my rapamycin, she also gets her rapamycin. I put the 1mg tablet hidden in a small piece of cheese and she takes it with enthusiasm. We work closely with my dog's vet to make sure she is fully informed about the test we are doing, but my dog's vet does not yet prescribe rapamycin for dogs in an anti-aging application.
Rapamycin Dosing for Dogs:
In the initial clinical study that the University of Washington did on rapamycin use in dogs, they used a dosing regimen as follows:
Dosing Schedule and Amount:
Schedule: Monday/Wed/Friday
The low rapamycin group received 0.05 mg/kg rapamycin (sirolimus) at each dosing.
The high rapamycin group received 0.1 mg/kg rapamycin at each dosing.
The dogs in the rapamycin treatment groups were dosed to the nearest 0.5 mg based on their body weight at the initial exam.
Note: In this dog study, the dogs were dosed three times per week - M/W/Friday.
I've heard that in the new rapamycin dog trial called TRIAD at the University of Washington, they are dosing dogs weekly, at approx. 0.15mg/kg of rapamycin.
In the human applications of rapamycin, most of us are dosing once weekly, and I like to keep it easy by giving my dog its rapamycin at the same time I take mine - but your approach may differ.
Mg. Dosing for representative dog weights:
25lbs/11.3kg, Low Dose Rap: 0.5 mg High Dose Rap: 1.1mg
50lbs/22.6kg, Low Dose Rap: 1.0 mg High Dose Rap: 2.2mg
75lbs/34kg, Low Dose Rap: 1.5 mg High Dose Rap: 3.3mg
100lbs/45.3kg, Low Dose Rap: 2.0 mg High Dose Rap: 4.4mg
Due to the difficulty of pill splitting with these tablets (the rapamycin tablets are very small), other than the very lowest dose (0.5 mg), I suspect that the most people, will just round up or down to the nearest mg in terms of dosing.
Rapamycin Side Effects in Dogs:
Here are the side effects that they saw in phase 1 of the dog rapamycin study. There were a total of 24 dogs in the trial, 8 were in the placebo group, 5 in the low rapamycin group, and 11 in the high rapamycin group: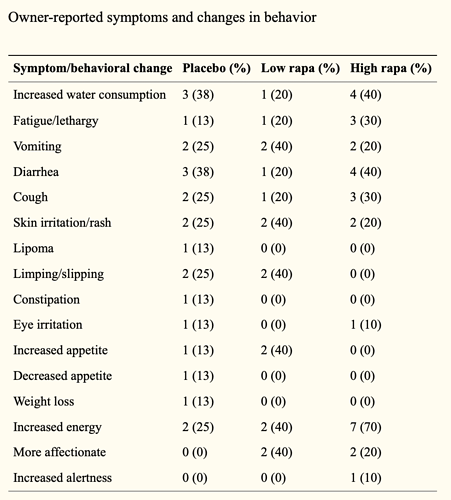 Heart Function Improvement
In this 10-week study of rapamycin in middle-aged healthy companion dogs they were looking at heart function as their short-term measure of effectiveness. Just as in the mouse studies, he study saw improvements in heart function in the treated dogs. The dogs that got the biggest benefit with rapamycin are the ones that started with the lowest hear function.
Interestingly, out of that study came a case study of a Doberman and cardiac function. Dobermans as a breed are highly prone (60-65%) to dilated cardiomyopathy. In the study, one owner of a Doberman in the study was giving her dog echocardiograms before coming into the study. That Doberman happened to be randomized into the higher rapamycin group and had one of the best responses in terms of improved cardiac function. The Doberman went from borderline dilated cardiomyopathy to ~10% improvement in EF, which is well into the normal range.
Rapamycin pricing.
The University of Washington now (we believe) uses the Zydus Siromus (sirolimus) version of rapamycin in their Dog Aging Study. This medicine is available from online pharmacies in India for about $0.50 to $1.15 per 1mg tablet. If you give your 30lb dog 1 tablet of 1mg rapamycin (sirolimus) each week, that works out to a cost of about $50 a year.
Veterinarians prescribing rapamycin for dogs.
Please add to this list by commenting below if you find other vets doing this. We recommend you work with a veterinary if you want to give your dog rapamycin, so that the full health history of the dog is taken into consideration prior to prescription.
another company selling rapamycin for dogs:
Dog Experiences with Rapamycin
From the recent Tim Ferriss Podcast with Kevin Rose
Tim, there is an absolute difference. Darya and I will tell you that — [my dog "Toast"] he's having some hip issues as he's getting older, his hips slip out from underneath him from time to time. And it doesn't help that we have concrete floors and it makes that a little more slippery for him, but he's jumping up on people now when they come in the house, including us, and just the level of excitement and energy and everything else that's come out of him. He's been on it for about two months now. It is working.
My dog is doing well. I do the 14 year old pug for three weeks and then take one week off and I do the 6 year old pug one week on and one week off. Maybe I'll experiment. They both have really good blood work but the fourteen-year-old was just sleeping all the time and almost seemed to have dementia and now is doing much better
2mg, 30 lbs dog, ~8 yrs old. I now take 10mg once per week. Started with 5mg once per week. Also take metformin and NR. No side affects noted for the dog, just longer walks, no more back pains, more energy and play.
My senior dog has been on Rapamycin for about a year. Since then, his early stage kidney disease has practically vanished, and he has so much energy!! He's spunky and doing very well, but his Lipase Levels in blood tests have been steadily rising since on Rapamycin and is now in the hundreds. His Alk. Phos. is rising, too, also very high. This could be a complete coincidence. Anyone else have such an experience? My local vet started him on a very high dose of Rapamycin (3 mg. X 3 weekly), but I have now lowered that to half. Wondering if I should lower it any further. Otherwise, he shows no outward negative side-effects, and Rapamycin has been a completely positive experience for him.
My vet knew nothing about Rapamycin. I asked him for it, as my dog was sick and in early-stage kidney disease. My vet made me sign a waiver, and that was the dose he prescribed. I had to get the Rapamycin elsewhere. So, I gave my 60 pound dog 3 mg. Rapamycin (three times weekly) for two months, with a one month rest period, then for another month. He became a super dog! Running around like he did five years ago. His kidney counts went back to normal, as mentioned, but his Alk.Phos. and Lipase had very slight elevations. After that (even off the Rapamycin) they steadily began to rise and are now in the hundreds. My vet suspected Cushings Disease even before the Rapamycin, so the Rapamycin could just be coincidental. I think you're right in saying I gave him too aggressive of a dose though. He feels much better now than before, though, despite the lab results. Still, I'm worried that they keep rising. Hope I didn't damage his pancreas or liver.
From one of the original dog rapamycin studies (see CNN Story here):
See Momo run faster, farther and with far more vigor, energy and youthfulness, his owners say, now that he's taking a drug meant for humans with cancer. "It's been remarkable," Paola Anderson said as she watched Momo, her 13-year-old white Pomsky, run around the backyard, keeping up with dogs a third his age.
5 Year Update on the dogs in the above story:
Sherman passed away last month so he lived 19yr 5 months which is long for a Pom, especially one that had a stroke (15 yr) and acute pancreatitis (8 yr) pre-rapamycin. The average Pom lives 12-16 years and the record is 21 years. Momo is still going strong at 18 yr 9 months. Sherman went on a plane trip/bus tour to France from California in 2019 so I assume he was in fairly good health. All in all a very impressive life/health extension.
News articles on Rapamycin for Dogs:
https://www.rover.com/blog/rapamycin-pill-could-make-your-dog-live-longer-in/