Amen. "You cannot manage what you cannot measure"
Its not too hard, or too expensive, to do:
So this is my current thinking. The Mannick paper showed a decrease in immune response with 20mg/wk of everolimus. We also know that everolimus is less effective than rapamycin so let's put the dose equivalent at 80%. That would mean 20mg everolimus is the equivalent of ~16mg rapamycin. That further suggests that the optimum dosage for rapamycin (at least for immunity) is somewhere between 4 and 16mg/wk? Do those taking an effective dose above 16mg/wk (eg 6mg plus GF) have concerns around lower immunity?
One unknown from the study I would like to know is body weight. If the participants were small women for example then of course their mg/kg would be higher.
I thoroughly investigated pulmonary fibrosis before starting rapamycin and was convinced that it was an issue in immunosuppressed patients who had been on potent post transplant drugs and then switched over to rapamycin. A very select group.
The concern for rapamycin would be a suppression of the innate immune system leading to bacterial infections, so neutropenia, not lymphopenia, would be the red flag. Of course, we still want the range to be normal for both.
Also not concerned about iron deficiency. I take IP6 with inositol on top of rapamycin and my ferritin level is totally fine.
I've been on rapamycin for 5 years now at weekly doses. My ophthalmologist told me last week that I have the eyes of a 40 year old. I also had renal testing and my GFR is essentially the same as 15 years ago. I'm 67.
One concern, I've been free of all infections for the pas t5 years, but this past month, for the first time, I switched from 9 mg/ week to 12 mg every other week and caught this virus from hell, not Covid . Going back to weekly.
What is your weight? Do you use GFJ with the Rapamycin?
On the virus…the simultaneous occurrence of the rapa switch and infection does not mean one caused the other.
No GFJ. Weight 189.
Agreed, correlation only, but in the absence of RCT's aren't we essentially going by individual responses?
Yep. Just pointing it out.
Relates to a more general point about the onset of side effects being an indicator of an efficacious dose. In other words, the idea that you push dose until you get side effect and then back off a bit and you will be at your "best" dose. Some posters allude to the idea (their thoughts, not verified) that if you don't hit a side effect you are not at the dose which does any/much good. So, in theory that makes a good indicator of what your dose should be.
I disagree as does the data. Rapamycin has a very high therapeutic index…(great big difference in toxic dose and therapeutic dose …determined in phase 1 clinical trials)…which also would indicate that there can be a big difference in the therapeutic dose and the dose at which side effects occur. This varies a lot by person and is shown in various clinical trials.
Bottom line is cannot determine the efficacious dose from the onset of side effects. Nice thought, but does not work.
I have worked up to 9 mg/week with 9 oz GFJ and no sides. Thats about as far as I will go and seems to be at the top of the range for using amount us human lab rats. Guess I will break down and get tested for Rapamycin level post admin. Planning to time it for 2 hours post.
As I have pointed out…9 weeks into this and no really obvious changes. Then again, I had no big deal issues coming in…except visceral fat…so difficult to measure effect. Gonna keep using and see what happens in another cycle of 8 weeks with no break in-between.
I'm 76 and have been using rapamycin for 8 months, with grapefruit or grapefruit juice from the beginning. I started with 6 mg every ten days (thinking it was 3.5 times that, or 21 mg, accounting for the grapefruit) and quickly went to 12 mg (thinking it was 42 mg) every two weeks. I walk a few miles most days, but don't do any other form of exercise. There have been no side effects and no noticeable benefits. If were more vigilant, I might have noticed something, but I haven't.
Thanks to this forum, I decided to get a blood test to check my peak. It cost $108 through Ulta Labs. I ate a grapefruit the evening before, ate another at 8:30 a.m. and ate another at 11:00 a.m. when I took the 12 mg of rapamycin. The blood was drawn at 1:00 p.m. It tested at 68 ng/mL with a note that it had been retested. A representative from Ulta called to tell me that that level was critically high. I don't find that worrisome since they would have been considering it in its role as an anti-rejection drug taken daily.
It did tell me what I wanted to know - whether the pills were the real thing. They are. I bought them from Pravin Lahoti at Varun Medicals in India. The cost, including shipping, was about $1.13 per mg for 1mg Zydus brand pills. I wanted to pay with PayPal, but he doesn't accept that. I had to wire the money to his bank. The package of 83 strips of 6 pills took about a month to get here, with tracking showing lengthy stops at customs in Mumbai and New Jersey. The return address said Varun Medicals and the box didn't appear to have been opened.
Good points and I very much agree. For those very reasons I don't think that a blood level has much value. It works better for things like digoxin and gentamicin that have narrow windows.
For visceral fat rapamycin wasn't a miracle But when I combined it with a once a week fast and exercise on an empty stomach, the visceral fat loss was very impressive. Wasn't possible without the rapamycin.
Thanks. Hoping that with some more time I'll see fat help!!
Doing 18 hr IF 2x a week. Do you think 24 hour 1x a week is better?
From what I first read about rapa and then what I have seen in the 3 people that I know personally on rapa - all were re-setting their weight point - is nothing seemed to change at all until after 3-months use – nothing at all… then at approximately 15 weeks… that first pound goes, and a few days later another and another a few each week - it continues to take off the weight from 15 to 20 pounds over the next month. I will be curious if this happens to you. I developed an Adonis Belt and some abs (I do not do ab exercises at all). I want to add that not a bit of actual arm or chest muscle diminished for me or them… just the adipose tissue - FAT!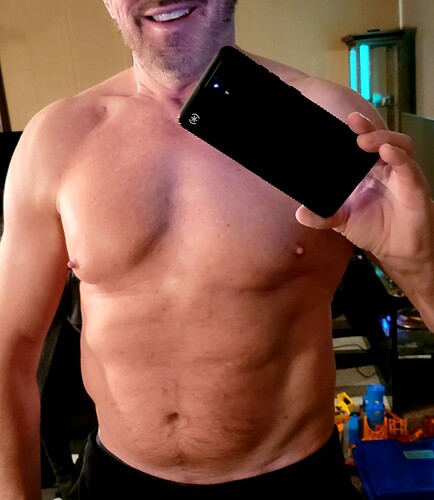 So there is hope. Tks for the feedback on duration until something seen…that is an important point. I am assuming I have real rapa as got with script in USA pharmacy. I'll keep on it as just getting to where you say it should kick in.
I do plank stuff and abs, some light free weights and walk a lot…nothing like you, but should be enough for an old guy!
FYI - All were doing three 2mg pills – 6mg total once a week to get changes.
I just completed my second round of using rapamycin bi-weekly at a dose of 20mg with grapefruit juice. At this dosage, I experienced adverse side effects of diarrhea and slow wound healing. I am now doing a washout period of 30 days or more. I am going to have a medical procedure so I want to be sure I don't have any adverse effects from rapamycin. Each round of rapamycin for me is the use of 100, 1mg tablets I receive from India.
I am going to get some comprehensive blood tests in the next two weeks to see what I have accomplished by taking a high dose of rapamycin every two weeks with grapefruit juice. Some possible positive effects I didn't expect were a loss of weight due to a loss of appetite and a decreased resting heart rate. My resting heart rate is 48 bpm. I now have to force myself to eat enough to keep from going below my recommended weight range. My next round of rapamycin will start at 10mg with grapefruit juice and I will adjust accordingly to the point of having some adverse side effects. I am 81 yrs old.
Wow - I think thats a record in this group. I have not heard of anyone reaching this blood sirolimus level before. Do you get any side effects? How long between doses? Have you been doing this high a level for a while, or just this one time?
I've been taking 12 mg with grapefruit or grapefruit juice for the last 6 or 7 months, every two weeks. The last two months, I did stop for the 3 day fisetin Mayo clinic regimen, starting rapamycin again three days after the last fisetin dose. So, those times, twenty days passed between rapamycin doses. As far as side effects and benefits, there's been nothing of note. I was hoping my arthritic knees would improve, but they still hurt.
I don't think I have the dosage record. Look just above. Desert Shores was taking 20 mg with grapefruit juice every two weeks. My ng/mL level was higher than I expected, since another person on here took 5 mg with grapefruit and got 17 ng/mL.
EnrQay, yours is the only other peak ng/mL test I've seen here so far. Since it isn't all that expensive and takes very little time, we may begin to see a few more.
Wow you were out to absolutely CRUSH the CYPA34 enzyme!
Is this your normal dosing protocol?
Can you advise for how long you were on the 12mg/GFJ/2 weeks regiment before this test?
Cmax at 2 hrs 68 ng/mL at 12mg with GFJ+
Note: Definition of Cmax:
Data From This Paper:
Looking at the 15mg, Cmax 50.3 without GFJ, and 127.9 with GFJ. Of course, it's very hard to capture peak unless your're doing many short interval blood draws after dosing.
Just to put your single data point in reference, you're definitely in some type of therapeutic range, and no apparent side effects.