During this episode of Longevity by Design, Dr. Joan Mannick explains how mTOR influences the aging process. She explains that this evolutionarily conserved protein is involved in several cellular functions in the body and acts on longevity-promoting pathways like autophagy. Dr. Mannick also discusses the connection between mTOR and the immune system, sharing her research on how low-dose mTOR inhibitors can upregulate antiviral immunity, creating an opportunity for more targeted vaccines for older adults. After extensive research on mTOR across many species, Dr. Mannick shares impressive insight into how mTOR inhibitors like rapamycin can promote longevity.
Joan Mannick has started a company (Tornado Therapeutics) to develop new rapamycin-like drugs. For Tornado, rapamycin is a competitor product, so you should expect Joan (a founder and major shareholder in Tornado) to be a little biased against rapamycin, though she is very positive on the mTOR inhibitors generally and clearly identifies rapamycin as the most proven longevity drug by a wide margin.
Joan is generally more conservative than some of the rapamycin-focused researchers we follow closely. She doesn't recommend anyone take any longevity-oriented drugs or supplements until more data is gathered. She anticipates it will be 5 years before we have really good clinical data on whether mTOR inhibitors can significantly slow an age-related decline in a human system (e.g the immune system) or organ. And given that the only groups that have the financial incentive and funding to do good clinical testing on mTOR inhibitors she is effectively saying that the biotech companies developing these new patented mTOR inhibitors will likey be the only groups to have this type of data.
And so, in half a decade we might know, with high certainty levels, if 65 or 75 year old immune systems benefit from the Tornado mTOR inhibitors. This is still, sadly, a long way away from knowing its affect more broadly on aging. So, it remains to be seen whether the new Tornado rapalogs will provide longevity benefits as great as rapamycin does (as shown in mice), what new side-effects the Tornado drugs will have, and whether the cost/benefit ratio of the drugs (when compared to rapamycin) will be compelling for end users.
Whatever the case, it will likely be many years before we find out. Research on rapamycin's impact on longevity has been going on for almost 20 years now, so its going to take a decade or more for the research on these new mTOR inhibitors to get anywhere close to that of rapamycin. At the same time, given the lack of human clinical trials being done on rapamycin (due to lack of funding), its doubtful right now whether we will ever seen well-powered human clinical trials for rapamycin in aging; we will have to instead rely upon animal studies or (it is hoped) well-designed studies with next-generation biomarker clocks. Brian Kennedy, Andrea Maier at the National University of Singapore are working on the later type of study with rapamycin in people.
Obviously new and improved mTOR inhibitors are a good thing for the market and we hope Tornadio is successful, and that they price the drug at a level most people can afford.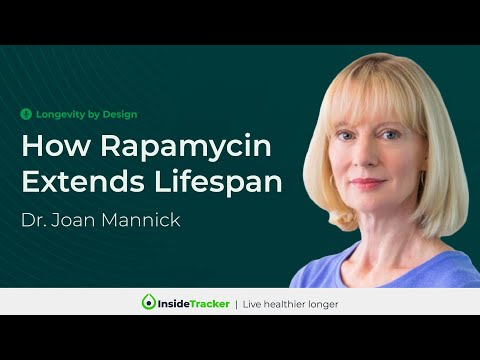 Related Reading: Cambrian Biopharma Announces Plan to Develop New mTOR Inhibitors, Tornado Therapeutics led by Joan Mannick
Also, here (below) is a very recent update from James Peyer, founder of Cambrian BioPharma (the parent company to Joan Mannick's company Tornado Therapeutics) in a BioWorld Insider podcast posted yesterday: Cambrian carves out a new niche as it works to keep people from getting sick
When the CEO of Cambrian Biopharma watched his grandfather fail every cancer treatment and eventually pass away, he came to a realization that now forms the backbone of his company. James Peyer said, the more he learned about cancer, the more convinced he became that approaching cancer as a disease was wrong. He said we shouldn't wait until people become sick to do something. Peyer has described his own company as focused 15% on moonshots and 85% on longevity innovation.

The firm is developing multiple anti-ageing therapies, all of which are at the preclinical stage, very early. He built Cambrian with a unique business model, one that fits the new field of geroscience.

Lee: Talk to me about your pipeline. I want to make sure I understand because it sounds like, if I understand correctly that each pipeline candidate would have its own company…?

James: That's right. We have 15 different drugs under development at Cambrian currently held across 10 different pipeline companies. Some even have more than one and it's more based around a group of shared mechanisms. For example, we have two rapamycin analogs that are in development entering IND-enabling work now and both of those assets live in our pipeline company, Tornado Therapeutics. It's not one-to-one, but our 10 subsidiary companies are developing 15 drugs.

Lee: Got it. So are the rapamycin candidates the most advanced ones?

James: As far as we've announced, yes.
Full interview transcript below:
BioWorld-Insider-Podcast-Episode-25-transcript.pdf (103.0 KB)