I am a big fan of quantified self types of efforts - so I appreciate that Bryan is doing all this work and tracking the numbers/results very closely and being very open about them. I suspect that he's getting 90% of his benefit from the healthy diet & exercise, plus rapamycin and acarbose (not all the supplements) but who knows…
I also think its very interesting to get an in-depth look at the fitness / longevity protocol of a very health-oriented person who basically has unlimited financial resources. Many of his approaches are things that we here are already doing, sometimes with equal or better results. Its good to see that we can do many of the things that this guy with $800 million can do (though that may be changing given the pace of longevity biotech advancements).
What are your thoughts? (ignore the hype by the marketing guy Max Hertan and his talk about a "world record" epigenetic age reduction - we have a number of people beating that in our list of rapamycin users here).
The key longevity drugs that Bryan Johnson is taking are:
Rapamycin (13mg every two weeks at this point in time)
Acarbose (200mg with every meal)
Metformin (500mg ER, with every meal)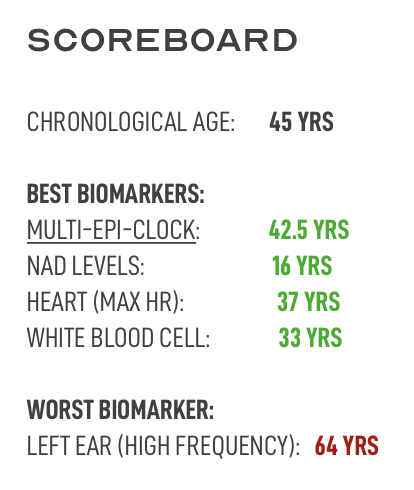 Some details below, but visit his website for full details: blueprint
Longevity Supplements and Medications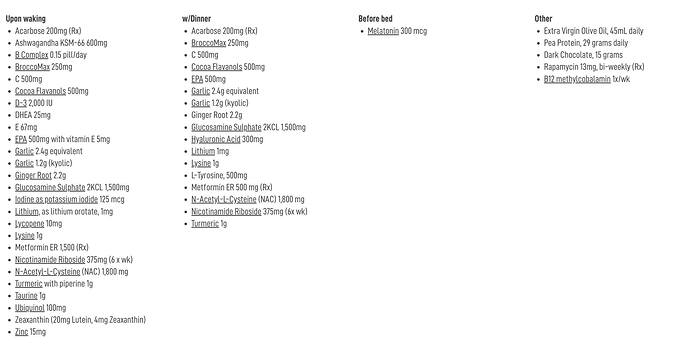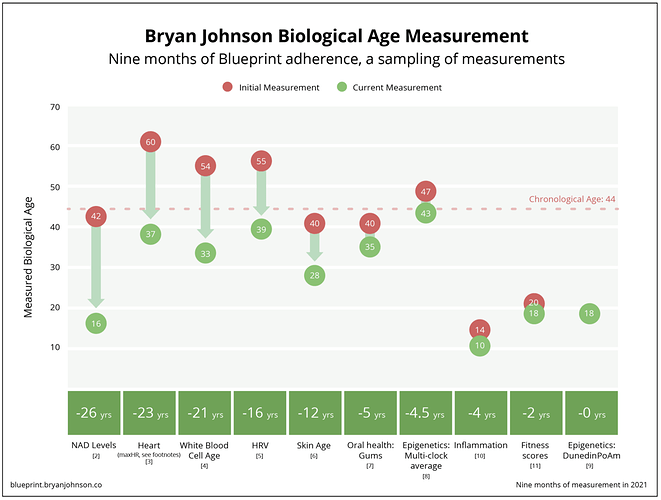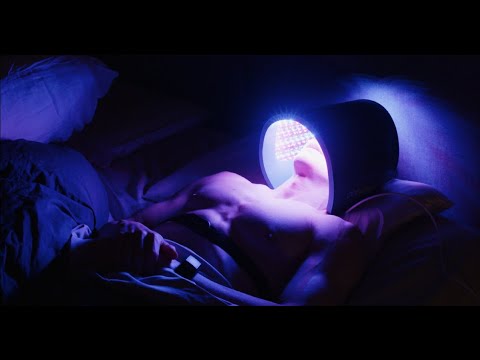 Monthly Blueprint cost = $2,224.50
Daily Calories = 1,977
Food Costs
$62.91 / day (vary by geography)
The Green Giant: $9.91

Super Veggie: $17

Nutty Pudding: $17

Third meal: $17

Other: $2 (i.e. extra virgin olive oil, Brazil nuts)
Supplements Costs
$11.24 / day
Morning: $5.76

Dinner: $5.48
Kitchen Readiness Costs
(one time cost)
Total approx ~$500
High speed blender

Food scale

Storage/Transport
Initial Test Costs
(every 3 to 6 mths)
Total: ~$1,250
Blood panel $350

Specialty tests
Daily Calories
1,977 daily calories
Green Giant - 150

Nutty Pudding - 310

Pea Protein - 260

Super Veggie - 379

Olive Oil - 240 (2 Tbsp daily)

Dark chocolate - 138

Third meal - 500
Andrew Steele's take on his protocol: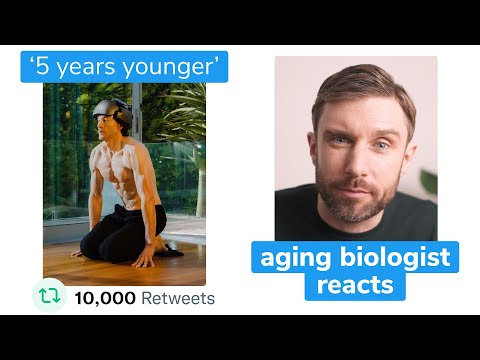 Morgan Levine's take on it: