One thing I learned in the recent Matt Kaeberlein / Tim Ferriss podcast that was completely new to me, was the Deprenyl lifespan study in dogs. Very interesting… you have to wonder why this line of research, after these great results, seems to have fizzled out (didn't continue to be researched) after it was first published 20+ years ago.
Dosing in the dog lifespan study was 1mg/kg, daily after being started in middle age.
The typical dosing for L-Deprenyl in humans is about 10mg/day. I wonder if the doctors in our forum have any experience with patients using this drug and have thoughts on whether 60mg/day (for a 60kg person) is potentially tolerable over months of continuous use?
Its off-patent and cheap. Given that we don't even yet have lifespan data in dogs for rapamycin (and many people are using it) its surprising that people are not already using L-deprenyl for longevity. Has anyone here every tried it?
An added benefit is that the method of action seems that it might be far removed from the common pathways of longevity drugs; mTOR, APMK, IGF-1, etc. and so if that is the case, it should be workable as a combination drug with rapamycin. (interestingly, I see in the literature that acarbose is contra-indicated for use with deprenyl for some reason).
I can see one issue with MAO inhibitors like deprenyl is that it has significant dietary implications: MAOIs and diet: Is it necessary to restrict tyramine? - Mayo Clinic
Dosing and Side Effects: Selegiline (Oral Route) Proper Use - Mayo Clinic
To assess whether L-deprenyl treatment begun in later life might enhance canine longevity in a fashion similar to that documented in rodents we also examined survival in a subset of elderly dogs who were between the ages of 10 and 15 yrs at the start of tablet administration and who received tablets for at least 6 months. In this subset, dogs in the L-deprenyl group survived longer (p < 0.05) than dogs in the placebo group. Twelve of 15 (80%) dogs in the L-deprenyl group survived to the conclusion of the study, in contrast to only 7 of 18 (39%) of the dogs who received placebo (P=0.017). Furthermore, by the time the first L-deprenyl treated dog died on day 427, 5 placebo treated dogs had already succumbed, the first on day 295. Specifically with respect to dogs, the findings reported herein suggest daily oral administration of 1 mg/kg L-deprenyl prolongs life when begun in relatively healthy dogs 10-15 years of age and maintained for the duration of the individual's life, but in any event for no less than six months.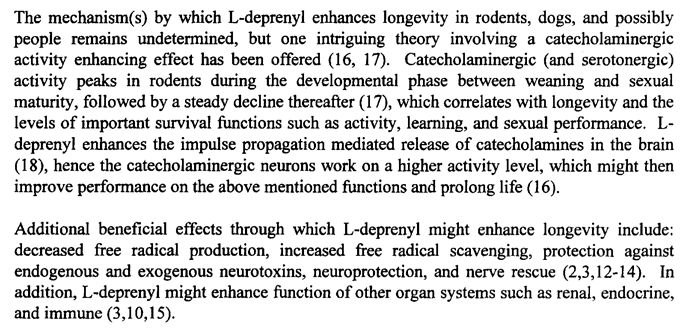 and:
Among many pharmaceuticals that have been tested for their effects on longevities of different animal rodents, deprenyl is unique in that its effects on longevity has been tested in at least four different animal species by independent research groups and that the effect has been postulated to be due to its effect of raising such antioxidant enzyme activities as superoxide dismutase (SOD) and catalase (CAT) in selective brain regions. Thus far, in all four species of animals examined (rats, mice, hamsters, and dogs), a positive effect was demonstrated, although the extent of its effect is quite variable. Our group has examined the effect on longevities in rats and mice and on antioxidant enzymes in rats, mice, and dogs.
Although deprenyl has been claimed to have several other effects, such as a radical scavenging effect and a neuroprotective effect, past reports on its effects on longevities and antioxidant defenses are compatible with the notion that the drug prolongs the life span of animals by reducing the oxidative damage to the brain dopaminergic system during aging.
Further, our studies on F-344 rats as well as a dog study by Ruehl et al. suggest that the drug may at least partially prolong the life span of animals by enhancing immune system function and preventing tumor development in animals.
Highlights:
L-deprenyl administration improved spatial memory in aged dogs.
The optimal dose or length of treatment time of l-deprenyl varied among individual dogs.