GLYLO Presentation - Lowering Methylglyoxal and associated Advanced Glycation End-products (AGEs) enhances physical activity and ameliorates aging-induced sarcopenia.
Human clinical trials have been (or are soon being) started at UCSF: Methylglyoxal (MGO) Lowering Cocktail to Reduce Appetite in Obese Individuals
A news story by the website Longevity Technology on the supplement is here: An antiaging supplement that also reduces appetite?
And, here is what is in GLYLO: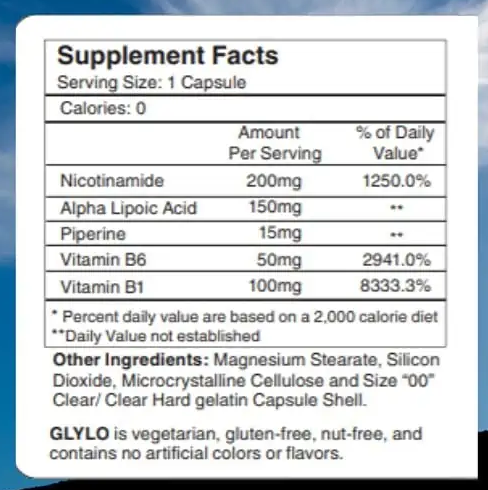 Additional Resources on GlyLo, and related research:
Presentation Overview
Excerpt From Cell Symposia: Metabolites in Signaling and Disease, April 2022
Glycation lowering combination therapy reduces caloric intake, improves glucose tolerance, and extends lifespan
Lauren Wimer1, Dr. Muniesh Shanmugam1, Jessica Ramirez1, Dr. Martin Valdearcos2, Dr. Kiyomi Kaneshiro1, Dr. Durai Sellegounder1, Dominique Gaffney3, Jennifer Beck1, Dr. Richmond Sarpong4, Dr. Soo-Jin Cho2, Dr. John Newman1, Dr. James Galligan3, Dr. Suneil Koliwad2, Dr. Pankaj Kapahi1
1Buck Institute for Research on Aging, Novato, CA, USA. 2University of California San Francisco, San Francisco, CA, USA. 3The University of Arizona, Tucson, AZ, USA. 4University of California Berkeley, Berkeley, CA, USA
Abstract
Obesity remains a leading risk factor for aging and age-related diseases, such as type II diabetes (T2D). The occurrence of obesity has been tied with an increase in caloric intake, enhancing glycolysis. A toxic byproduct of glycolysis is methylglyoxal (MGO), a reactive precursor for advanced glycation end-products (AGEs), which drives T2D and its complications. Here we show that MGO and MGO-derived AGE, MG-H1, affects hypothalamic regulation of food consumption parallel to the leptin pathway in wild-type mice. Conversely, glycation byproduct lowering compounds (Gly-Low), a combination therapy which reduces levels of MGO, reduced food consumption and body weights in wild-type mice while also extending lifespan as a late-life intervention. Furthermore, Gly-Low treatment in a leptin receptor deficient mouse model rescued diabetic phenotypes and lifespan. We highlight the potential of Gly-Low as an intervention to reduce the effects of glycation through the reduction of systemic MGO while downregulating novel FOXO1-associated feeding pathways.
Reducing Methylglyoxal Rescues Obesity Related Phenotypes and Lifespan in a Leptin Receptor Deficient Mouse Model
and
The role of advanced glycation end products in aging and metabolic diseases: bridging association and causality
The Role of Advanced Glycation End Products in Aging and Disease. Podcast with Pankaj Kapahi
Meclizine and More…
A Novel Piperazine Class of mTORC1 Inhibitors, One of Which Extends Lifespan in Mice