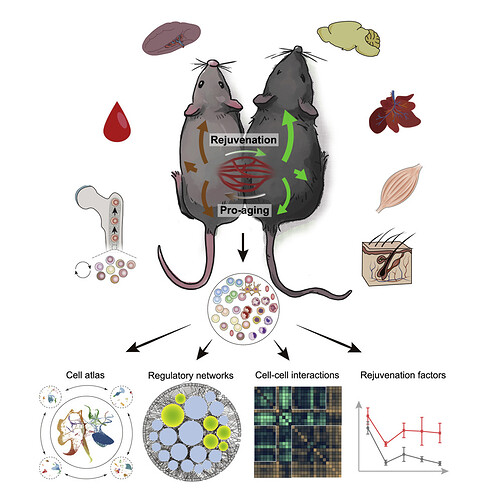 On this week's episode: Researchers at the Chinese Academy of Sciences found that heterochronic #parabiosis rejuvenated adult stem cells across mouse tissues.
Heterochronic parabiosis induces stem cell revitalization and systemic rejuvenation across aged tissues
paper: https://bit.ly/3NcgYrh
Listen to the discussion: https://bit.ly/3N7gkvj
An interesting new study. Given all the background of research on young blood / heterochronic parabiosis it seems likely that large and regular transfusions of young blood into older bodies will ultimately be proven to have a significant positive impact on lifespan.
Heterochronic Parabiosis is one approach for research, but it seems that given the influx of "old blood" into the young mouse and the problems that would cause, the better approach for translation to a clinical application would be a continual or pulsed supply of young blood from numerous young mice. Of course, in humans this would be very expensive and problematic at an image/social level. I know that the Cowboys at UC Berkeley, and others, are looking to isolate and productize all the blood factors that are responsible for these effects but this is something that could (relatively easily) be done today simply with young blood. And of course, the next level up would be to get the young blood from high-performing young athletes… as was done in this study (in mice).
I discussed this with Irina Conboy in another forum, and she really wants to steer people away from the young blood transfusion area (primarily, I think, due to the negative optics of older people taking blood from younger people). But, if money is no object, its probably available. (though Jesse Karmazin's startups - Ambrosia and Ivy, seem to have been shuttered).
young blood background reading
Multi-omic Rejuvenation and Lifespan Extension upon Exposure to youthful Blood Circulation