@desertshores Do you have similar for red cell distribution width, the heaviest weighted parameter in the Levine phenoage?
Yes, but I don't have a similar chart to plot it on.
8/5/2021 RDW = 12.1%
5/26/2022 RDW = 12.8%
One thing that probably had a negative impact on my marker is the negative impact that 2 doses of the Pfizer covid vaccine had on many of my good markers. I did not include them, only the before and after taking rapamycin for ~7 months.
Your absolute RDW association with longevity, and would have a large impact (lowers) on your Levine phenoage.
Red Cell Distribution Width and the Risk of Death in Middle-aged and Older Adults
Conclusions—RDW is a widely-available test that is a strong predictor of mortality in the general
population of adults aged 45 and older.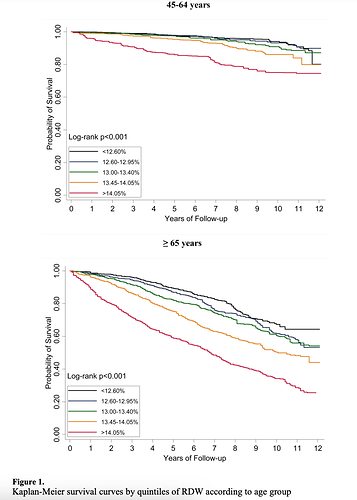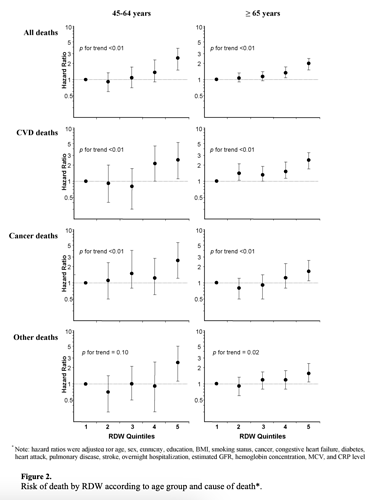 I had gotten a flu shot in Nov of 2022. There has been a discomfort in the upper arm sense then and I never had any discomfort in the past from flu shots.
In researching I read where if a shot is too high on the arm it can cause pain but generally goes away in few months. It was down to a mild ache before starting Rapa. After I upped my dose to 6 mg with GFJ the pain has increased and certain movements of the shoulder really hurts. Even stranger is if I press on the arm, it does not hurt but making the certain movements sends a jolt of pain down the upper part of the arm. Going to continue the 6 mg for two more weeks then suspend the rapa for 30 days.
Sounds like you might be getting a frozen shoulder - just a coincidence that it has started developing at the same time as the flu shot. I doubt Rapa will help. You will probably need physiotherapy.
I had this years ago. There was one exercise that did the trick and that was from a standing position arms by my side, keep them straight and slowly raise up out to the side and keep going until pointing straight upwards. 10 reps twice a day - this was the one exercise from my physio sessions that made the difference.