Rosemary oil vs minoxidil 2% for the treatment of androgenetic alopecia: a randomized comparative trial
Interesting… add Rosemary added benefit will be fresh scent. Lol.
Oh and BTW - the new - improved tonic gives a slightly browner glaze to my hair - so after a few uses might cause my grey bits to be less. Also, seems to have a bit of an oil to it now which could benefit scalp… less dryness and itching.
Another interesting development:
Anyone have access to the NEJM and can post the full article/paper?
Paper:
Thanks for the tip. I will try double wood. Saving money is always good, as our supplement stacks become very expensive. And always great to hear positive user experiences!
Hey the added ECGC -Green tea extract and Resveratrol takes care of that grey hair in seconds.
I will post in a few days. Still deciding if the move to add ECGC and Resveratol was a good one! Will give it a week.
A new NY Times article on the topic of hair:
(as a side note, minoxidil tablets are available from many of the companies on the list of reliable online pharmacies, for very little money - i.e. $1 for a strip of 10 tablets of 5mg, which would need to be broken up to deliver the much lower dose used in the study). The doctor is quoted as now giving patients "effective doses of one-fortieth of a pill and began routinely prescribing the drug. That first patient still takes it."
But there is a cheap treatment, he and other dermatologists say, costing pennies a day, that restores hair in many patients. It is minoxidil, an old and well-known hair-loss treatment drug used in a very different way. Rather than being applied directly to the scalp, it is being prescribed in very low-dose pills.

Although a growing group of dermatologists is offering low-dose minoxidil pills, the treatment remains relatively unknown to most patients and many doctors. It has not been approved by the Food and Drug Administration for this purpose and so is prescribed off-label — a common practice in dermatology.

At a meeting in Miami in 2015, Dr. Sinclair reported that low doses of minoxidil prompted hair growth in 100 successive women.

He published those results in 2017, noting that rigorous studies were needed, in which some patients would be randomly assigned to take minoxidil and others a sugar pill. But that has not happened. He says he has now treated more than 10,000 patients.

Recently, a rising number of hair-loss dermatologists have been giving the low-dose pills to patients with male and female pattern hair loss, a normal occurrence with age.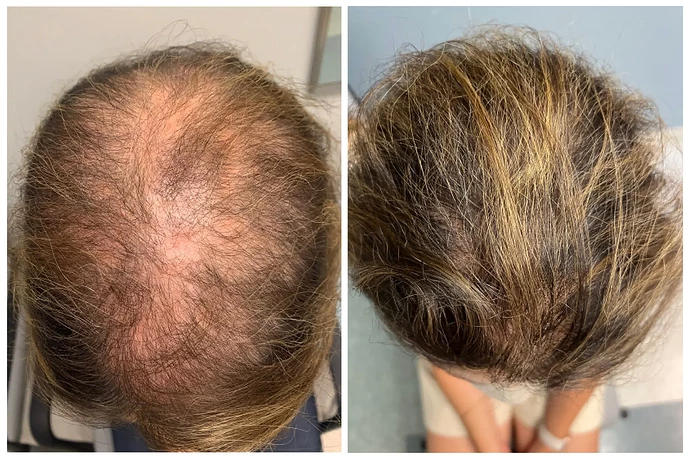 The research papers that have been published on this is below:
Background

Minoxidil and spironolactone are oral antihypertensives known to stimulate hair growth.

Objective

To report on a case series of women with pattern hair loss (PHL) treated with once daily minoxidil 0.25 mg and spironolactone 25 mg.

Methods

Women newly diagnosed with a Sinclair stage 2–5 PHL were scored for hair shedding and hair density before and after 12 months of treatment with oral minoxidil 0.25 mg and spironolactone 25 mg.

Results

A total of 100 women were included in this observational pilot study. Mean age was 48.44 years (range 18–80). Mean hair loss severity at baseline was Sinclair 2.79 (range 2–5). Mean hair shedding score at baseline was 4.82. Mean duration of diagnosis was 6.5 years (range 0.5–30). Mean reduction in hair loss severity score was 0.85 at 6 months and 1.3 at 12 months. Mean reduction in hair shedding score was 2.3 at 6 months and 2.6 at 12 months. Mean change in blood pressure was −4.52 mmHg systolic and −6.48 mmHg diastolic. Side effects were seen in eight women but were generally mild. No patients developed hyperkalemia or any other blood test abnormality. Six of these women continued treatment, and two women who developed urticaria discontinued treatment.
Female pattern hair loss: a pilot study investigating combination therapy with low-dose oral minoxidil and spironolactone
https://onlinelibrary.wiley.com/doi/10.1111/ijd.13838
Conclusion

Oral minoxidil was found to be an effective and well-tolerated treatment alternative for healthy patients having difficulty with topical formulations.
Oral minoxidil treatment for hair loss: A review of efficacy and safety
https://www.jaad.org/article/S0190-9622(20)32109-5/fulltext
Adverse effects of low-dose oral minoxidil for androgenetic alopecia in 435 patients
https://www.jaad.org/article/S0190-9622(20)33074-7/fulltext
How safe is prescribing oral minoxidil in patients allergic to topical minoxidil?
Seems like I'll need another pill! Is this prescription only? Where can we buy it?
See the regular list of reliable online pharmacies - I've added details to the top of my most recent post on The NY Times story.
Perhaps the biggest problem with this new oral minoxidil approach is that the dose is so low, and the smallest tablet I can find is 5mg, and the dosing is at .25mg/day.
Anyone have any good ideas on how to simplify dosing of .25mg a day when starting with a 5mg tablet? Seems like a hassle to crush the 5mg tablet and divide by 20 and somehow keep it organized and measured…
This dermatologist site indicates they are using a higher dosage than .25mg. Oral Minoxidil for hair loss - fact sheet and definitive guide - Dermatologist
Doses of oral Minoxidil

Minoxidil is available in 2.5mg, 5mg and 10mg tablets. We use the Loniten brand (Pfizer Ltd). A common starting dose is 0.625mg per day for women and 1.25mg per day for men. You should get a tablet cutter from your pharmacy and cut a 2.5mg tablet into quarters or halves to get this dose.

The optimum dose for hair loss is not entirely clear. It may be in the region of 0.625mg to 2.5 mg per day. For men, a slightly higher dose may sometimes be required. You may be asked to take the medication daily or every other day.

Doses of minoxidil for hair loss are considered 'low dose'. This is because the doses uses for hair loss are a lot lower than the doses which are used for conditions such as hypertension. The doses used for hypertension are 10-40mg per day.
Looks like RapAdmin could cut the 5 mg in half. It seems relatively safe at 2.5mg for men.
I have a pharmacy in India that I use that can supply the 2.5 mg tablets. He is out of the office and will send pricing and contact info tomorrow. I'll post it as soon as I get it.
Buy a pill filling tray and some empty capsules, then crush the pill in a mortar and pestle and mix with glycine or some other filler. You'll need to use geometric dilution to mix it evenly. e.g. Mixing of Pharmaceutical Powder - Pharmapproach.com
You could mix one 5mg pill per 1,995mg of filler and then you measure 100mg per pill (with .25mg/ea). This is easily measured with a milligram scale and you can use plastic weighing boats to pour into each capsule. Everything is on amazon.
edit: adjust the numbers above if you want 1.25mg or whatever
More isn't necessarily bad, you only get a higher chance of side effects but 1.25mg is already pretty low…
The optimum dose for hair loss is not entirely clear. It may be in the region of 0.625mg to 2.5 mg per day.
In conjunction with my Skunk works Agetron tonic… my physician gave me a prescription for oral minoxidil 2.5 mg… twice a day… using now for 2 months plus.
Only side effect is fat ankles… nothing else. The article on the research at the start of this topic indicated 3% had this side effect.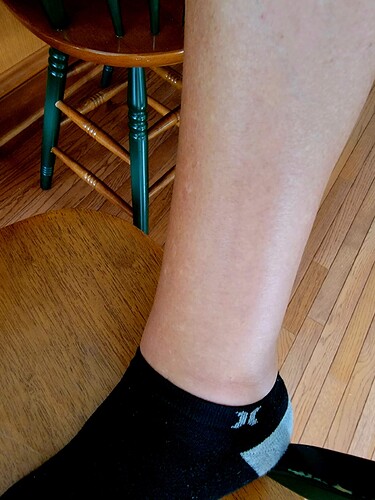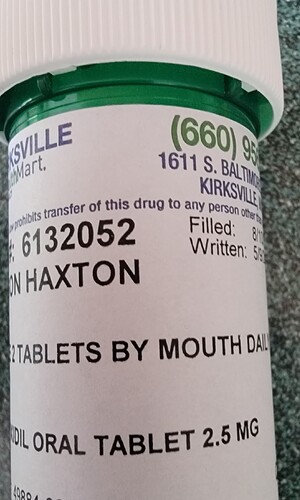 At 5 mg per day going to drop to 1 pill just 2.5 mg… and maybe every other day if my ankles don't return to normal. My RN son checked… no fluid retention - which is good… just slight swelling.
On a positive note he said "Dad your hair is amazing and crown filled in again. YES!
FWIW
Prescription generic oral minoxidil 2.5 mg tablets 60 tablets cost $4.44 at local ACME with a SingleCare coupon card if you sign up, $9.94 without signing up.
I have No financial interest in SingleCare, I use them at times for purchases.
I was quoted $25 for 30 tablets of 2.5mg from Welcome Enterprises in Mumbai. A pack of 50 tablets at 5 mg strength is $40
The cost is much more than local pharmacy in the US using a discount coupon.
Definitely. If you have a prescription.