Early Medical and Peter Attia pre-launched Early today: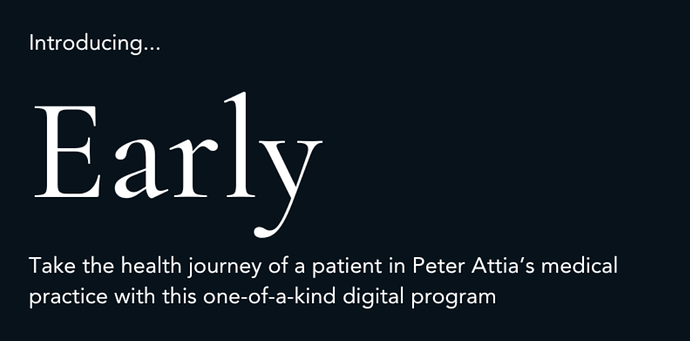 " Today is a big day. In the summer of 2020, my team and I began working on a very hard problem, to address a very important need:
How can we take the work that we do with our patients and make it accessible to a broader, non-patient, audience?
In trying to find a solution to this problem, Early was born. And today is the day Early is being offered to its first cohort."
" So, exactlywhat is Early? To start, I can honestly say that Early is sui generis . It simply has no peer. At its core, Early is an intensive 12-module program, consisting of more than 100 videos, totaling more than 25 hours of original content, available exclusively in the Early program, and hundreds of supporting documents and resources, that provides you with the education and tools necessary to engineer your own longevity playbook from start to finish.
You will have access to tools and resources that are exclusively available to our patients and participants in the Early program. Here are a few examples:
Access to the precise set of labs that we monitor for our patients and our internal reference ranges, including your own copy of the trend sheet to track your lab changes over time.
Access to our Longevity Risk Assessment, which helps you triage the specific risks to lifespan and healthspan that are most relevant to you.
Access to exclusive exercise instructional videos that assist you in building an exercise program uniquely tailored to your needs, as well as resources to help manage any injuries you might currently be struggling with.
Early is the culmination of our years of dedication as both students of, and physicians practicing, the applied science of longevity. While there is no direct doctor/patient relationship with me or my staff, Early aims to be the next best thing: an organized, exhaustive, and actionable program designed to put you in the driver's seat of your own longevity journey.
There is no sugar-coating this . To extract the complete magnitude of value we've packed into Early is not an easy task. It will take time and effort. But I'm not aware of anything more deserving of your time and attention than the pursuit of a better life, both physically and emotionally."
The Website is here: https://www.earlymedical.com/