Seems like a few people here (ie @desertshores) take Lithium orotate as there is some suggestive evidence in animal models that it may extend lifespan when taken with rapamycin, while also reversing dyslipidemia from rapamycin.
I wonder if anyone has any blood work showing this in humans. If so, please do share dosing and bloodwork!
For those who are not very familiar, I suppose I can do a quick introduction on lithium from my second look at the combination and what lithium does:
Potential effects with rapamycin
This PNAS study found large synergistic effects of lithium, trametinib, and rapamycin in a fly model:
https://www.pnas.org/doi/10.1073/pnas.1913212116
The study noted given the complex nature of the aging process, it is extremely unlikely that the most effective "antiaging" therapy could be achieved by a single compound with a single target, as almost every other "antiaging" researcher has suggested. This study showed non-additive effects on lifespan with combination therapy being significantly greater than when taken separately. Essentially, "1+1=3" and "1+1+1=5". Not only that, fertility was preserved.
Dosing in animals
Low doses of lithium extended lifespan in flies, but high doses shortened lifespan: Lithium Promotes Longevity through GSK3/NRF2-Dependent Hormesis - PubMed
MOA related to anti-aging
Lithium has multiple possible targets and I will not go through every single one of them - just the relevant ones for anti-aging. It appears that micro-dose Lithium may induce mitohormesis and xenobiotic detoxification via the GSK-3 and NRF2 pathway. GSK-3 regulates the Wnt/B-catenin pathway. Lithium may increase stem cell activity and increase the transport of Vit B12 and folate. Lithium may also increase autophagy and mitochondria. However, some of these effects are not proven in humans. In humans, it appears to increase neurogenesis and neuroprotective factors, and increase cortical gray matter, white matter, and limbic structures (ie hippocampus, thalamus, amygdala) from MRIs of bipolar patients.
MOA in bipolar disorder/mania:
GSK-3 and inositol monophosphatase (inositol depletion hypothesis) are the proposed direct targets of lithium action in the CNS for bipolar disorder. The other proposed MOAs include: stimulating inhibitory neurotransmission and inhibiting excitatory transmission, inhibiting overactive PKC intracellular signaling, modulation of norepinephrine/dopamine/serotonin/GABA, and modulation of abnormal Ca activity at NMDA receptor.
Pharmacogenetics
In a GWAS for bipolar disorder patients, 4 linked SNPs on chromosome 21 met genome-wide significance criteria for an association to monotherapy lithium response in a large sample size.
Animal studies
Model organisms have revealed IMPA as a mediator of improved synaptic function in response to lithium. GSK-3 appears to be a conserved mediator of lithium action, required for increased longevity, improved cognition, and prevention of Alzheimer's disease pathology across worm, fly, and mice models of neurodegeneration. Lithium chloride was shown to repress abdominal aortic aneurysm in rats via regulating the GSK3β/SIRT1/NF-κB signaling pathway: Lithium chloride represses abdominal aortic aneurysm via regulating GSK3β/SIRT1/NF-κB signaling pathway - PubMed
Humans studies
There is also a lower incidence of dementia in human patients with bipolar disorder and suggestive evidence from a very small study for lower dementia progression in human AD patients with low dose lithium (0.3 mg/day): Microdose lithium treatment stabilized cognitive impairment in patients with Alzheimer's disease - PubMed
Safety studies
From my understanding, >5 mg lithium intake has not been tested for safety. There are observational studies that go up to 3 mg per day in drinking water. There are a lot of possible drug-drug interactions with lithium and doses can increase manyfold. Especially in older people, those with low salt intake, kidney impairments, and/or dehydration. There are plenty of interacting drugs, including but not limited to - NSAIDs, ACEi, and antibiotics. This letter implied that >5 mg of lithium orotate could be potentially unsafe:
Here is one case report of lithium toxicity in supplemental lithium orotate 18 tablets of "3.83 mg of elemental lithium per 100 mg of (organic) lithium orotate" compared to "18.8 mg of elemental lithium per 100 mg of (inorganic) lithium carbonate" used in bipolar
Pharmacokinetics
The half-life of lithium is ~24 hrs. It takes at least 4-5d for serum lithium concentrations to reach a steady state after dosing is changed. Fingerstick tests of lithium levels are available for 12-hr serum trough levels.
Lithium orotate appears to be similar pharmacokinetics relative to Lithium carbonate: Lithium orotate, carbonate and chloride: pharmacokinetics, polyuria in rats - PubMed
To mitigate some effects of high doses especially since lithium has a very narrow therapeutic window in bipolar disorder - this study tested lithium salicylate and lithium lactate with very different results - very steady with lithium salicylate in both plasma and brain over 48 hrs, as opposed to lithium orotate which spikes: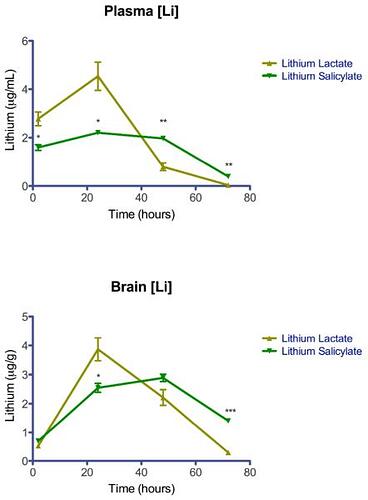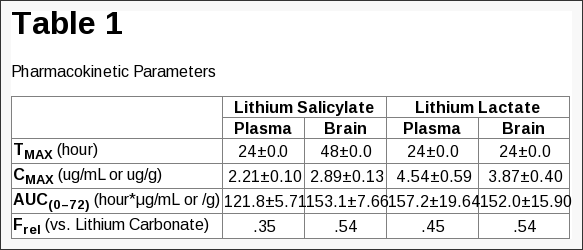 For comparison, Lithium carbonate (Lithium orotate is probably similar) in different people: