I am considering combining Rapamycin with Acarbose but can't find a recommended dosage
of Acarbose. Any suggestions?
Conversion from mice to humans from NIA ITP for a 70 kg man give about:
400 ppm (11% lifespan extension in male mice): about 350 mg / day
1000 ppm (17% lifespan extension in male mice and dose tested with Rapamycin): about 880 mg / day
But for humans, usually the highest dose for diabetes is 100 mg 3 times a day - but we don't know if dose for diabetes is optimal for longevity
Why not just start with the minimum 25mg?
You can experiment with a CGM to determine if you need more. Increase it if you need it or when you are satisfied by human evidence that to do so would be beneficial.
I started at 25mg with each meal, then after a few weeks increased to 50mg, and then ultimately to 100. More recently I've been testing at 200mg per meal (following Bryan Johnson's dosing approach). I don't notice much difference between any of the doses to be honest. But I haven't tested the higher dosing while on my CGM, which would be my next step, probably in September when I've got more time.
My suggestion would be to track your blood glucose levels while taking acarbose, either via finger prick measures, or CGM. But, as other have said, we don't have a really good idea yet of what the optimal dosing is for longevity.
Are you starting both, or are you already taking Rapa and now adding acarbose?
I've been taking rapamycin for almost 4 years, and acarbose for the past year+, intermittently. I've moved my diet more off wheat, so now I'm dosing acarbose more regularly. The gas is much more tolerable (i.e. less significant) now.
did you have any trouble at any of those doses with gas — my big issue with acarbose.
Oh yes… I think I almost exploded when I first started acarbose with my more wheat-oriented diet (occasional pasta, etc.). It was intolerable for myself and everyone else in the family. Now - with non-wheat diet its mostly tolerable.
I've found the gas decreases significantly as your body adjusts to the acarbose. I take 100 mg with every meal.
I have just been on Rapamycin for 11 weeks now
I take 50mg with meals. I did try 100mg but it gave me bad gas/bloating. Though I didn't take the 50mg long enough. Best to build up before going to the 100mg. Even cut the 50 in half and take 1 50mg and half of the 50 for 75mg before moving to 100. Helps minimise side effects.
I won't move to 100mg as all my carb meals are quiet high in fibre so that slows sugar and prevents huge spikes as well. I also fast , so 50 is good for me.
Keep us updated how things goes. My plan is to start with it in the beginning of next year.
Here are some dose regimes people on twitter has shared that I have stumbled upon.
There exists also a good thread here in the forum with lots of good information:
Acarbose is for slowing the absorption of carbohydrates into your system. I have been using it for a year and may take 25 mg with low carbs and as much as 200mg if I eat abusively, like including a partial cake. Since I usually don't eat a lot of carbs, i rarely take it. If you eat less then 10 carbs in a meal, i am not sure what the reason would be to consume acarbose with that meal.
Let's not forget that there may be follow on effects of taking ACA - Acarbose may reduce the expression levels of inflammatory factors by increasing the abundance of beneficial bacteria - seperate from simply slowing carbohydrate absorption.
If it helps, I'm currently taking 50mg 3x (meals)/day, for a month now, wear a CGM, eat carbs, and have never had a glucose reading even above 140.
GI symptoms the first few days after initiation therapy but none since.
How is the conversion of the dosage calculated? isn't ppm food-based?
Yes - PPM is a food-based
PPM means part per million - 1000 ppm means the same as 1 000 / 1 000 000 from food
1 000 / 1 000 000 → 1 / 1 000
So if someone would eat 880g of food a day, it would mean 0.88 g of the drug
Its interesting… yes, PPM (Parts per million) is the typical measure for many of the ITP compounds, but you can convert it to a mg/kg dosing if you know the weight of the mice and the amount of food the mice are eating each day.
There seem to be three main methods of calculating dosing of animals: ppm (parts per million of the drug in the total amount of food), mg/kg of drug per kg of body weight, and the third is body surface area. I've read the body surface area is the best calculation.
I haven't checked @PolishGentleman 's calculations but here are details on how to convert to humans, but the basic math is just one thing, there is the whole other area of allometric scaling and metabolism comparison between the animals (e.g. mice) and humans that makes things more complex.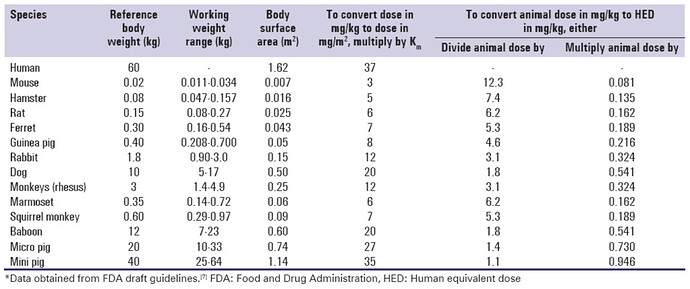 From this document:
Related discussion: 8 mg/kg rapamycin increases lifespan. This is like 376 mg rapamycin in a 47 kg human