It will be interesting to see the results in this twitter poll by LinvingForever. Give your vote

https://twitter.com/LivingForever8/status/1702388077287842265?s=19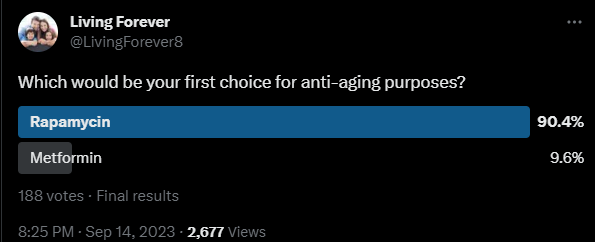 If this vote is even close it means a lot of people ignoring the science.
What do you mean with that? Do you mean that rapamycin is much superior than metformin and this is why the poll is not a good one? I think there are quite many people out there who view metformin as a good potential anti-aging drug and probably also a better drug than rapamycin. Lets see the results in some days. I will take a screen shoot of the result and publish here.
The currently available data clearly favors Rapamycin.
Metformin has more human data. That is it's benefits over Rapamycin I would say. But I agree that Rapamycin has better data on multiple species and better lifespan effect in different species.
The evaluation of rapamycin vs. metformin is always going to be Rapamycin (and the best longevity results in all research)/but higher risk of side effects vs. Metformin (some mildly positive results in human populations) but minimal side effects risk.
More risk adverse people may opt for metformin, while more risk/calculating types will go for rapamycin.
Human data that it extends life span?
The human study that opened the eyes for many people regarding metformin was this study. I remember even Peter Attia got very excited about it but this study has its problems.
Here is a interesting systematic review and meta-analysis
Effects on epigentic clock
Age related diseases
Cancer prevention
Cognitive decline
A systematic review and meta-analysis on COVID and improved immune system
So there exists quite much but lots are on type 2 diabetes patients but there exist also studies on non type 2 diabetes. I haven't seen so much good human data on Rapamycin. This is just some examples that I have listed.
I have spent a little time looking at this issue (and voted for Rapamycin). I am not persuaded of the merits of Metformin particularly by the issue that some of the bigger research projects excluded people who were diabetic who took more drugs than just metformin.
However, I would still be open to persuasion.
In the end I am persuaded by Berberine. (partially because it is an HDAC inhibitor and partially because it has a long track record of medicinal use and there are current papers supporting its use).
I would vote for rapamycin no doubt, but metformin actually has more proof when it comes to human aging. "Metformin reduces all-cause mortality and diseases of ageing independent of its effect on diabetes control"
Looking at the report
2.2.3 Comparator
Any controls were eligible for inclusion provided they were not receiving metformin. This
included members of the general or non-diabetic population as well as people who were
receiving other therapies for diabetes. In the latter case, studies were only included if data
was adjusted for the effect of diabetes on disease control (i.e. HbA1c levels or number/rate
of diabetes related healthcare visits). Where patients entered into studies were using
metformin on an ongoing basis their data was included if diabetes control at baseline was
adjusted for, as this reflected how well their diabetes was being managed by metformin.
However, if patients were enrolled with incident metformin use and the only adjustment for
disease control was made at baseline, the study was excluded as this data would not reflect
the effect of metformin.
It worries me that they compare diabetics to a population including people with more severe diabetes that metformin is not sufficient to control.
I would want to see an analysis that separates out these people from those who have not got diabetes.
The majority of subgroups, including studies with non-metformin controls (HR= 0.72, 95%CI
0.65 to 0.80, p<0.00001), insulin treated controls (HR=0.68, 95%CI 0.63 to 0.75, p<0.00001),
and sulphonylurea treated controls (HR= 0.80, 95%CI 0.66 to 0.97, p= 0.02), found that even
after adjusting for metformin's effect on diabetes control, diabetics taking it had lower allcause mortality than diabetics who were not. The one exception was the subgroup where
the controls managed their diabetes through diet alone.
To be honest this is the killer. In terms of all cause mortality. DIabetics who don't take anything have better mortality than diabetics who take metformin, but nothing else.
What this does is make the whole analysis meaningless or perhaps moreso unreliable. I would really want to redo the analysis myself. In any event I don't intend taking metformin so I am not particularly worried.
That final conclusion implies there is lower mortality having diabetes and controlling it through diet than anything else.
Metformin
I think we have flogged this horse enough.

Probably not going to change anyone's mind at this late date in the debate.
In the most recent podcast from Dr. Attia: "The Journal club with Andrew Huberman", he presents an epidemiological study reevaluating metformin results as geroprotective. He changed his mind "for now" and stopped metformin. Another reason he stopped metformin was that it increased lactic acid level with exercise.
That paper changed my mind. I now think the Metformin analysis that supports its use for longevity is wrong.
Metformin for sure is great if you have pre or diabetes type 2. There is just no evidence that I know of that it extends the lifespan or healthspan across the different species. There is such evidence, well maybe not level 1, for rapamycin.

Peter talks quite good why he stopped taking Metformin in this podcast for 3 years ago and why he started taking Rapamycin.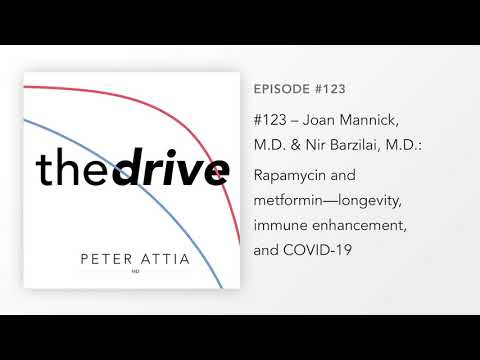 RapAdmin, don't forget the price gap between both as a factor behind poll's results.
Edit: it was 'gap' not 'tag'. Sorry my worst english.
Not sure what you mean - both are generic, and inexpensively available. Admittedly, in the US metformin is a little cheaper. Kaiser gave me a prescription and I think the cost (with no insurance coverage of it) was $11 for 90X500mg slow release tablets vs. the $1/mg I typically pay for rapamycin from India. Still both are very inexpensive (or can be, depending on the source).
From what I've seen, metformin has failed to extend lifespan in mice studies, but could this be due to the fact that metformin depletes b12 and the results could have been more favorable had they also given the mice b12? Berberine has had more favorable results in mice and I don't think that depletes b12, so that could explain it. Low b12 causes various health problems, and among them are high homocysteine levels, which as we know, lowers lifespan. Posting here since this thread is partially about metformin and I don't think this theory deserved it's own thread.
As for rapamycin vs metformin, the numerous longevity studies in numerous species paint a pretty clear picture on which one is better.