Now available as a recorded Youtube Video: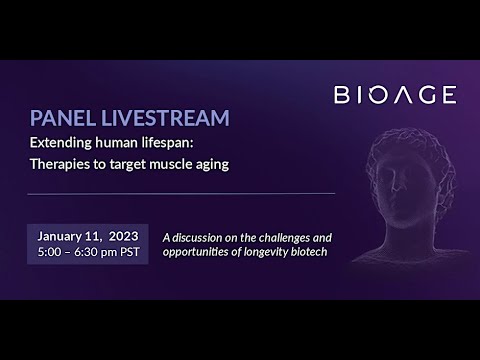 Wed, January 11, 2023, 5:00 PM – 6:30 PM PST
Free Registration here: Livestream: Therapies to Target Muscle Aging - panel during JPM 2023
A livestream of a panel discussion during JPM 2023 on extending human lifespan and therapies to target muscle aging. Hosted by BioAge Labs.
Drugs that target aging directly, rather than individual age-associated diseases, will fundamentally transform healthcare.
Loss of muscle mass and strength with age decreases mobility and independence and diminishes quality of life. A wide range of age-related syndromes are driven by muscle aging, including acute myopathies in hospitalized or immobilized patients as well as chronic illnesses such as sarcopenia and frailty. These conditions are common among millions of older people, have no effective therapies, and thus represent an enormous unmet clinical need.
Today, the first therapies that target the root causes of muscle aging are in clinical trials.
Join BioAge and our panelists for a discussion of the challenges and opportunities of developing clinical therapies for muscle aging, with topics including:
Age as a primary risk factor for acute and chronic muscle disease
Promising targets and drugs for muscle aging
Muscle aging in the clinic: Strategies and progress
A lively discussion will be followed by Q&A from the audience.
BioAge Labs is a clinical-stage biotechnology company developing drugs to treat human disease and extend healthspan by targeting the molecular mechanisms of aging.
• • •
MODERATOR
• Eric Morgen
COO & Co-founder, BioAge Labs
Eric oversees BioAge's clinical and computational efforts to bring new therapeutics to the clinic that target fundamental mechanisms of aging. Eric was previously an assistant professor at the University of Toronto, where his research focused on biomarker discovery and characterization in high-dimensional datasets from human cohorts. He completed an HBSc in artificial intelligence, MD, clinical training in pathology, and a research fellowship in computational biology and molecular epidemiology at the University of Toronto, where he held a Canada Graduate Scholarship from the CIHR, and was subsequently a CIHR research fellow. He has published over 15 papers in the areas of molecular biomarker discovery, pharmacogenomics, aging, and diagnostic medicine. Eric is a licentiate of the Medical Council of Canada, a fellow of the Royal College of Physicians and Surgeons of Canada, holds a specialty designation in pathology, and previously practiced medicine at Mount Sinai Hospital in Toronto.
PANELISTS
• Ann Beliën
CEO & founder, Rejuvenate Biomed
Ann Beliën, PhD, founded Rejuvenate Biomed in 2017, where she currently functions as CEO. As entrepreneur, she matured the company in 5 years from a discovery start-up to a clinical-stage company, by building a team of 15 experts that are enthusiastically engaged. All this was made possible by attracting international investors from seed funding up to series B. Additionally, she has over 22 years of experience in drug development from bench to market, which she acquired throughout multiple international assignments (US, NL, BE). Over the years, she developed from scientist to operational and strategic roles, including external and open innovation.
Dr. Beliën previously worked as due diligence representative for R&D at Johnson & Johnson and served on the management board of Janssen Prevention Center for 5 years. She joined Johnson & Johnson in 2000, after a postdoc at ETH, Zürich, Switzerland. She holds a PhD from the University of Irchel, Zürich, Switzerland and a master's degree from the Free University of Brussels (VUB), Belgium.
• William Evans
Professor, Berkeley & Duke
William Evans, PhD, is Adjunct Professor of Human Nutrition at Berkeley and Adjunct Professor of Medicine (Geriatrics) at Duke. He was the first to describe sarcopenia, the age-related loss of muscle mass and strength that drives functional decline and loss of independence in older adults. His research has shown how muscle protein synthesis declines with age, revealed connections between sarcopenia and other diseases of aging, and demonstrated the importance of physical activity in maintaining muscle function. He has served as an investigator in multiple clinical trials of muscle aging, and his work has been reported in more than 250 scientific publications.
Previously, Dr. Evans was President of the Muscle and Health Division at KineMed and VP and Head of GlaxoSmithKline's Muscle Metabolism Discovery Performance Unit, where he led a group of scientists dedicated to developing new medicines to treat frailty and sarcopenia. In 2005, he testified before the Senate Special Committee on Aging about strategies to save Medicare through prevention of chronic diseases associated with aging.
• Carl Morris,
CSO, Solid Biosciences
As CSO, Carl Morris, PhD oversees the drug development processes for Solid Biosciences. Prior to joining Solid, Dr. Morris was a Senior Director for Pfizer's Rare Disease Research Unit, leading their efforts in neurologic diseases and muscle biology programs. While at Pfizer, he directed several small molecule and biotherapeutic development programs, including a program that led to a Phase 2 study in DMD, while also heading an internal research group responsible for advancing programs from target identification to the clinic for many rare neurologic and muscle-related diseases. Dr. Morris identified key external opportunities and worked closely with patient groups, academic laboratories, and other industry partners to advance drug development in the neuromuscular disease space.
Prior to joining Pfizer in 2007, Dr. Morris was an Assistant Professor at Boston University School of Medicine and a founding faculty member of the Muscle and Aging Research Unit, established to investigate strategies for improving muscle function during aging or disease.
Dr. Morris holds a B.A. in Biology from Franklin Pierce College (Rindge, NH) and a PhD in Physiology from UCLA.
• Hanadie Yousef
CEO & co-founder, Juvena Therapeutics
Hanadie Yousef, PhD is a leading expert on the biology of aging and mechanisms underlying tissue degeneration. A scientific pioneer with two decades experience in biomedical research, she is the co-foder and CEO of Juvena Therapeutics, a venture-backed biotechnology company mapping the therapeutic potential of secreted proteins to develop biologics that prevent, reverse and cure chronic and age-related diseases.
Under Dr. Yousef's leadership, Juvena has secured nearly $50M since launching in 2018 and developed a proprietary pro-regenerative protein library supported by an artificial intelligence-enabled drug discovery and development platform. The platform has enabled the identification, extensive preclinical validation, and lead optimization of three novel drug candidates, as well as discovery candidates for several chronic and age-related degenerative diseases.
Dr. Yousef earned her B.S. in Chemistry summa cum laude from Carnegie Mellon University and a PhD in Molecular & Cell Biology from UC Berkeley. She pursued a 5-year postdoctoral fellowship in Neurology at Stanford School of Medicine as an NIH fellow and SPARK scholar. Her early research began at Regeneron and Genentech.