Hi!
So we know rapamycin has been proven to extend the lifespan of multiple organisms. However there are other molecules that do the same such powerful senolytics such as Dasatinib + Quercetin, metformin & micro-dosed lithium to some extent. I may of forgot some but these seem the most promising. If you know of any other molecules that have been shown to increase lifespan please post them below.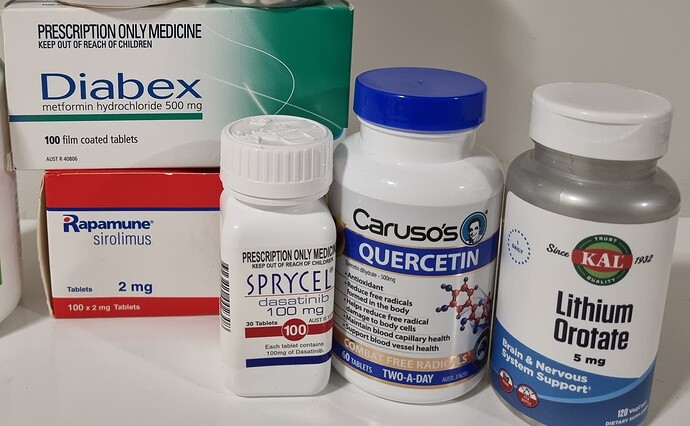 Eliminating senescent cells extends healthy life in mice
Mice given dasatinib-quercitin lived 36% longer and in better health
Lithium Produces Mildly Positive Effects on Healthspan in Mice
Metformin improves healthspan and lifespan in mice
I have always been curious on what would happen to a mice/organism if scientists combine all the molecules together? Will it increase the lifespan/health more than just rapamycin alone? or dasatinib + quercitin alone? What would happen if you give a mice rapamycin, metformin, dasatinib + quercetin and lithium? Recent study showed Rapamycin + Acarbose combined lifespan of male mices by 29% so if you combine rapa + acarbose with dasatinib + quercetin would the lifespan benefits add up together to 35% 50%? These questions really make me so curious! I know none of us know the answer but its interesting to hear others thought.
I'm currently taking all the molecules apart from dasatinib + quercetin, even though I have access to these molecules. I'm doing more research first and thinking about adding it to my stack.
I really hope scientist in the future try combing the molecules that actually have been shown to increase lifespan/health span in organisms.