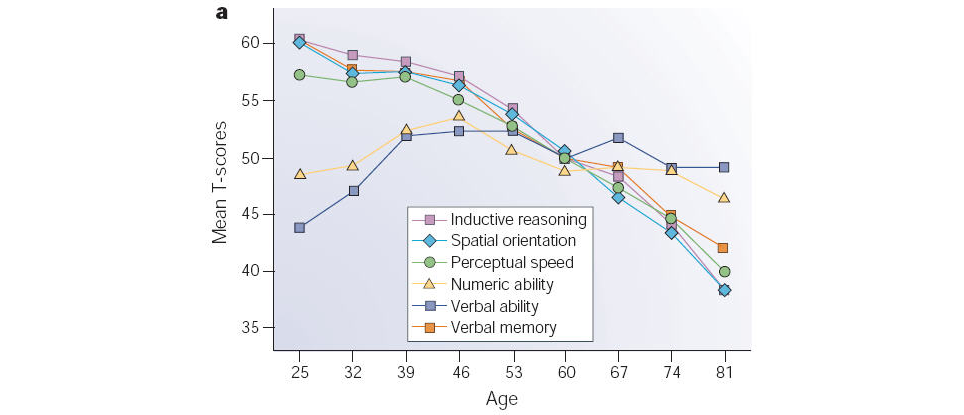 Friends, let me show what is probably the most horrific visuals in the world. While there are questions regarding the origin of the data and the curves, the key takeaway remains consistent across different datasets. It becomes painfully obvious that many traits we associate with intelligence begin to decline long before chronic diseases manifest with age.
This life-long progressive decline is especially pronounced in what's termed "fluid intelligence." This refers to our ability to learn new information, adapt to new situations, and solve problems we've never faced before.
In contrast, aspects of our "crystallized" intelligence – such as our verbal and arithmetic abilities, which are honed over our lifetime – once mastered early in life, remain largely untouched by age.
Here are my insights from this observation:
Intelligence isn't linear. If we were to map out these traits, we would identify at least two distinct categories. The first would be linked to crystallized intelligence, encompassing language mastery and numerical skills. The second would align with fluid intelligence, representing what many of us traditionally recognize as intelligence, often measured using tools like the IQ scale or the g-factor.
The dual nature of intelligence suggests that at least in humans the abilities in language and basic arithmetic, compared to the most crucial cognitive functions, are governed by separate systems.
Our abilities to communicate with clarity over elegance, stem from different cognitive functions. As age progresses and we lose neurons, the ability to communicate elegantly persists way longer than the capacity for clear and accurate expression. Be wary of eloquent speakers, for sometimes, eloquence masks a lack of substance.
It's conceivable that large language models (LLMs) like ChatGPT emulate only one of these systems, most probably the crystallized intelligence. However, fluid intelligence, which I would consider the essence of human intellect, likely functions independently. Supporting this notion, despite their linguistic prowess, the IQ scores of modern LLMs remain surprisingly modest ranging from 83 to 150. Those like me who tried doing their kids homework and some actual work with ChatGPT would not believe 150 though.
This doesn't mean they lack potential. One of OpenAI's most innovative strategies has been to train language models through human interaction, allowing the models to learn and evolve. Given that humans possess both crystallized and fluid intelligence, there's potential for machines to develop in tandem through interactions with us.
What this suggests is that the best is yet to come for these machines. For us, however, the picture is more sobering. As we age, our cognitive profile starts resembling that of an LLM. In a metaphorical sense, the LLM is what remains of our intellect once the ravages of time take their toll.
Carthāgō dēlenda est, Carthage must be destroyed, and so must aging be stopped, boys and girls
As always, if you like what you see here - follow me, hit the like and share - I need your friends. Thank you.
Peter Fedichev,
Source: https://twitter.com/fedichev/status/1694980930501222549?s=20
Peter's Company is "Gero", more info: About Gero
Related Reading:
A framework of biomarkers for brain aging: a consensus statement by the Aging Biomarker Consortium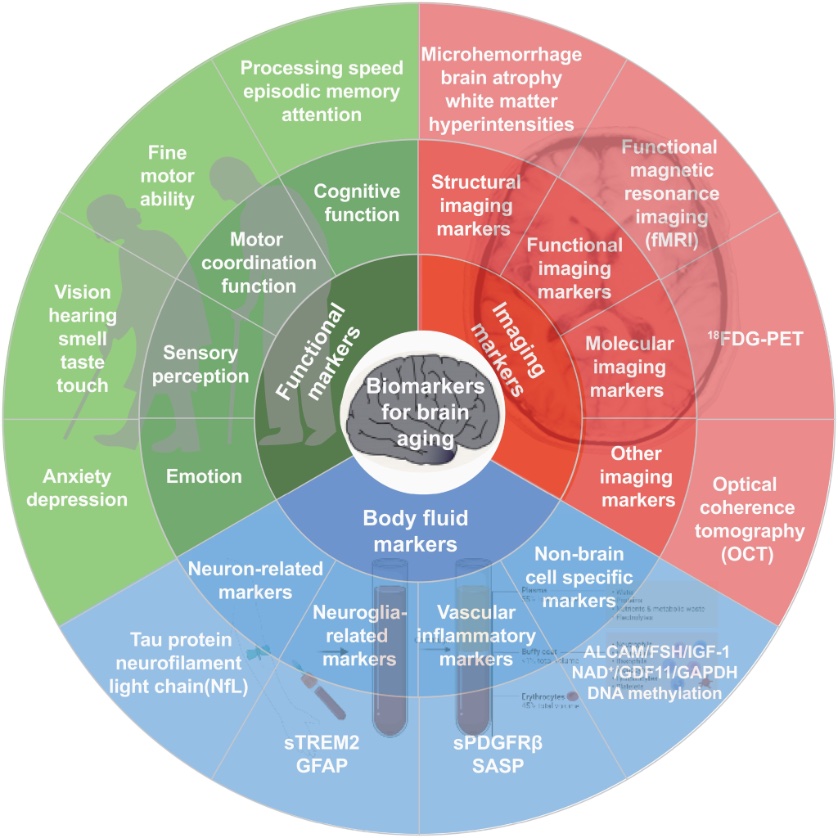 Open Access Paper: framework of biomarkers for brain aging: a consensus statement by the Aging Biomarker Consortium | Life Medicine | Oxford Academic
lnad017.pdf (380.9 KB)