I wonder, with all the Rapamycin human studies out there…if we looked at actual cause of death, is immunosuppression causative? Can one definitely assign death to an aspect of the immune system?
Appears you can.
Long-term Follow-up of a Randomized Trial of Tacrolimus or Cyclosporine A Microemulsion in Children Post Liver Transplantation
"There were 11 deaths in the cohort, which were from infectious complications/malignancy in the Tacrolimus group"
Another large observational study:
"We analyzed 98,344 individuals from the Copenhagen General Population Study (Denmark), examined from and with available blood lymphocyte count at date of examination. During a median of 6 years of follow-up, they developed 8,401 infections and experienced 1,045 infection-related deaths. However, due to the observational design, the study cannot address questions of causality, and our analyses might theoretically have been affected by residual confounding and
reverse causation"
Looks like 1.1 lymphocyte count is a significant HR association cutoff.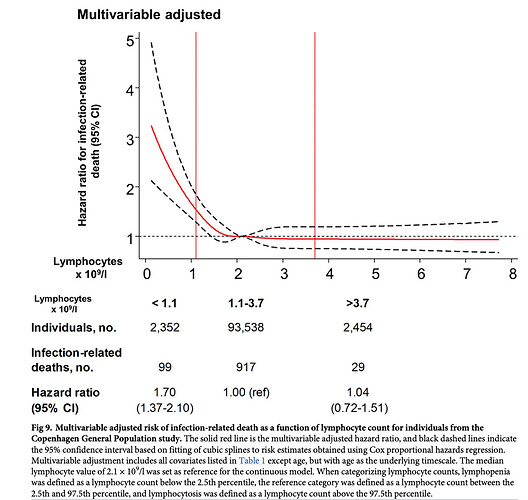 Lymphopenia was, after weight loss, the biggest Grade 3/4 side effect (n) in the cancer/Sirolimus/GFJ study.

From a Lamming paper on Rapamycin/mice/longevity and TOR2:
Rapamycin-induced insulin resistance is mediated by mTORC2 loss and uncoupled from longevity
"Our results suggest that rapamycin extends lifespan at least in part via inhibition of mTORC1, and despite impairing glucose homeostasis via disruption of mTORC2 signaling. Chronic rapamycin treatment disrupted the association of mTOR with both Raptor (mTORC1) and Rictor (mTORC2) in all three tissues. Therefore, direct disruption of mTORC2 is a second molecular mechanism that may contribute to the effects of rapamycin in vivo. Our findings emphasize that mTORC2 disruption profoundly affects metabolism, and may be relevant to the pathogenesis of type 2 diabetes and the metabolic syndrome. Rapamycin disrupts mTORC2 in multiple tissues. Disruption of mTORC2 may contribute to the pro-longevity effect of rapamycin. mTORC2 disruption is an important mediator of the effects of rapamycin in vivo"
The "practical" issue is all we have readily available is Rapamycin (and Everolimus), both of which impact TOR1/TOR2 in cancer curative studies.
What about prevention?
Are we truly harnessing Rapamycin without teasing mTOR2, or just fooling ourselves at low intermittent doses?