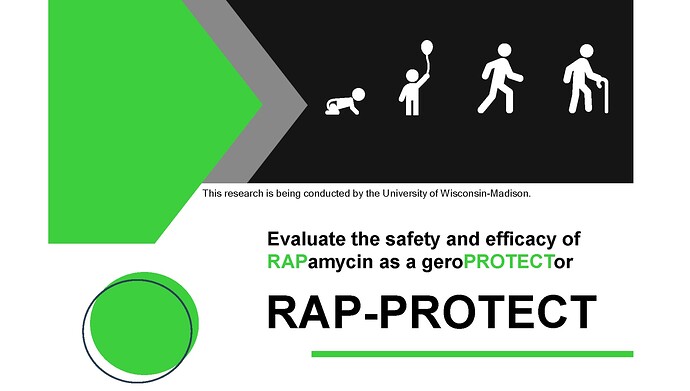 This is a great opportunity for everyone here to help push the rapamycin clinical science forward faster. Dudley Lamming of the Lamming Lab at University of Wisconsin sent me this information this morning. Lets support his research by participating! This is another good project being funded by the Longevity Impetus Grants group and their excellent team. If you want to move longevity science forward faster we encourage donations to Impetus Grants.
The "Evaluate the safety and efficacy of RAPamycin as a geroPROTECTor" (RAP-PROTECT) study is starting at the University of Wisconsin-Madison. We are looking to enroll adults in the continental United States between the ages of 30 and 90 that are taking or are planning to take rapamycin (sirolimus) or an analog such as everolimus under the supervision of a physician to promote healthy aging.
Participants will undergo a single blood draw and answer questions about their health.
This is only for people in the Continental USA (you can be anywhere in the continental USA).
The subject needs to have a physician who is aware they are taking rapamycin and who is responsible for helping them deal with any effects of the medicine.
A phlebotomist will come to the house or workplace of the subject and draw the blood right then and there.
The study starts today and runs until it's done, as soon as all the blood samples are complete.
They're planning on perfecting whole blood transcriptomics and plasma lipidomics to get a global view of the effects of rapamycin, and then targeted assays on things like triglycerides, senescence / inflammatory markers, and glucose/insulin.
Results of the study may be published inside of a year if everything comes together quickly
There is a compensation of a $25 gift for participants
To Participate, Email the RAP-Protect Team Today
Send the following information to their team by email:
Name
Age
Sex (M/F)
Rapamycin Status (currently taking Y/N, How Long?, Dose?)
Rapamycin plans if you are not yet taking it
City / State you live in
send by email to:
e-mail: rap-protect@medicine.wisc.edu
(Email is not a secure form of communication. Please avoid sending other sensitive personal information via email)
For more information, please contact the RAP-PROTECT study team by email, or at
phone: (608) 263-2475
Study Team Leader: Dr Dudley Lamming, Ph.D.