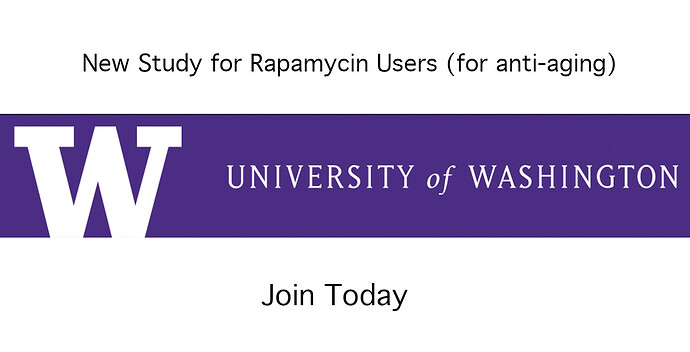 Dr. Matt Kaeberlein, Dr. Jon An and their teams at the University of Washington have partnered with Dr. Alan Green and other colaborators (including us) and have today launched a new study on rapamycin and its effects on healthy people. The study is being funded by an Impetus Grants.
We encourage everyone who visits here (from anywhere in the world) to participate - whether you are currently taking rapamycin or not (they also need a control group - so if you have any interest in healthy lifespans, please join the study).
Also, please tell your doctor (that prescribed you rapamycin) about the study and encourage him/her to contact the study and get their other Rapamycin-using patients (who may not be aware of the study) to get involved. The larger the number of people in the study, the better the data will be, and the better we can all understand the effects of rapamycin in healthy people.
From Matt Kaeberlein:
We will hold special online Q&A sessions for study participants where I and my colleagues will be available to answer questions and discuss the science around rapamycin and the biology of aging more broadly
To learn more about the study you can visit the study's Frequently Asked Questions Page.
The study is survey based and consists of short modules that will each take only a few minutes. It does not have to be completed all at once. Collectively, the information will provide us with a better understanding of the effects of rapamycin, particularly its potential effects on the aging process. We are also collecting data from people who do not take rapamycin, so as to have a control group for comparison. Your data will be kept confidential with compliance to HIPAA regulations and we will let you know what our findings are.
Please go to the study website (https://rapamycinstudy.org/) where you will be asked to complete an informed consent. Once this has been done, you will be provided with a unique identifier within 24 hours and directed to the survey.
If you have any questions about the survey or have any difficulties with it, please send an email to rapamycinstudy@uw.edu
Summary of why you should join in the study:
It helps move the rapamycin science forward faster
You get direct access to some of the top Rapamycin reseachers (Matt Kaeberlein et al) via study participant Q&As.
Even non-users of rapamycin are needed for the control group.
Its Quick and Easy - All you have to do are complete some Health/Online Surveys
It just might extend your lifespan .