In this epic podcast episode I interview the world's leading Rapamycin researcher Mikhail Blagosklonny. His contribution to moving the Rapamycin longevity field forward has been huge and we would not be here where we are today without all his great work and passion in the field. I feel that this episode took my longevity knowledge to the next level. Especially because of these three key takeaways.

I got a deeper understanding of the hyperfunction theory and how mTOR drives age-related diseases and why Rapamycin is a promising candidate to delay this process. But also why for example centenarians probably live a longer life.

The hyperfunction theory also fits well with my current mindset and the theory was like a big missing puzzle piece that I found. I feel thanks to this that my overall work with my own longevity journey will improve a lot. The theory will not often give detailed answers on specific cases but I think it will help me in guiding me in the right general direction in different cases.

It was interesting to get Mikhail's view on the glucose regulating drug Acarbose and that he personally prefers a low carb diet when combining it with Rapamycin. I'm already satisfied with the levels of carbs in my diet that I eat today. It's not a high carb diet or a ketogenic diet but something in the middle. So things point more and more to the fact that I will try to add Acarbose to my longevity stack at the beginning of next year. I don't want to decide yet what I will do so I will keep the door open for other alternatives until January when I do some kind of improvement to my longevity protocol.
We were all shocked when Mikhail recently revealed that he was diagnosed with lung cancer which had spread to his brain. What he is now dedicating his life to really shows what unique person he is. He is now using his passion, knowledge and his great mind to develop a new form of treatment to cure his cancer. This is his life mission now and this is something he will share with us in the future. May the force be with you, my friend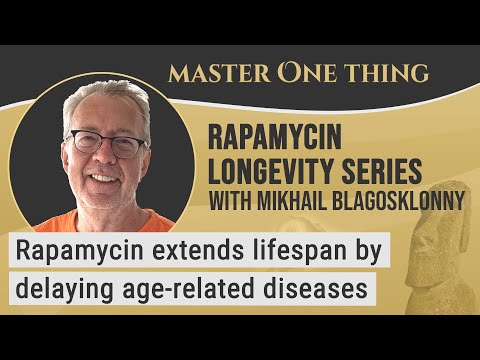 Time clips
02:32 Current situation and mission
04:07 Why did Rapamycin not prevent his cancer?
06:33 He develops a new type of cancer treatment
08:32 Hyperfunction theory of age-related diseases
10:38 mTOR drives age-related diseases
13:00 Hyperfunction theory and the car analogy
17:20 Difference between new and old version of hyperfunction theory
19:58 Prediction based on hyperfunction theory
21:38 Rapamycin seems to work at any age
23:55 Rapamycin will not make you immortal
26:21 Rapamycin delays lung cancer in mice
27:44 Hyperfunction theory and hormesis
29:13 Rapamycin combination with fasting or calorie restriction
30:33 Rapamycin combination with Acarbose or low carb diet
31:40 Rapamycin combination with exercise
33:04 Exercise and longevity effect
36:10 mTOR sweet spot
38:44 Why do centenarians live a long life?
40:36 Theory of accumulation of molecular damage
44:04 Hyperfunction theory was initially rejected
47:47 Rapamycin research that is missing
51:44 Rapamycin and bacterial infection
53:30 Rapamycin side effect on longevity dose regime
55:50 Rapamycin and pseudo-diabetes
58:51 Rapamycin combination of Acarbose or low carb diet
1:00:09 Rapamycin and increase in lipids
1:02:19 mTOR, mTORC1 and mTORC2
1:05:22 Mikhail's self-experimentation with Rapamycin
1:10:41 Rapamycin and traditional medical care
1:11:13 Rapamycin and unacceptable side effects
1:14:26 Rapamycin and combinations to avoid
1:16:55 Rapamycin and high protein intake
1:18:08 Best time to start taking Rapamycin
1:21:00 Does Rapamycin prevent cancer or not?
1:23:52 Autophagy is a double-edged sword
1:26:51 Important insight from his cancer
1:28:38 Rapamycin rebound effect
1:30:24 Difference between theory and practice
1:32:45 Mikhail's cancer and cancer treatment
1:37:36 Rapamycin and danger