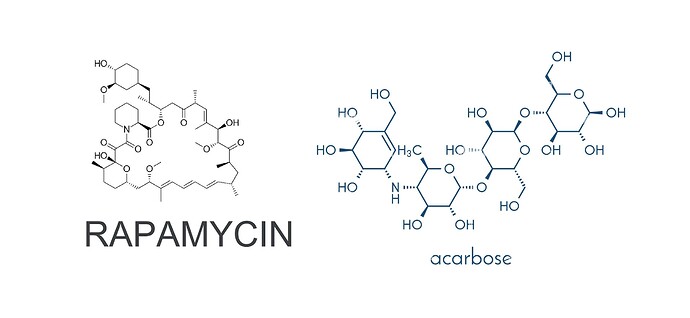 More good news on Rapamycin and Acarbose in this mouse study just published (Nov, 2022):
Acarbose (ACA) or Rapamycin (RAP) treatment improve rotarod acceleration and endurance capacity compared to controls, with effects that are largely similar in mice starting treatment from early or late in life. Compared to controls, cardiac hypertrophy is reduced by ACA or RAP in both sexes regardless of age treatment onset. ACA has a greater effect on the cardiac lipidome than RAP, and effects of early life treatment are recapitulated by late life treatment. These results indicate that late life treatment with these drugs provide at least some of the benefits of life long treatment, although some of the benefits occur only in males, which could lead to sex differences in health outcomes later in life.
Paywalled Paper:
Related Reading: Acarbose - Details On Another Top Anti-Aging Drug
Interestingly, one of the paper's authors, Sean Louzon, published a 44 page thesis (attached below) on a similar topic a few years ago. His evaluation in his thesis of the rapamycin side effects is poorly informed and seems to have missed the benefits of pulsed dosing that people do in longevity applications. So, at least in his Thesis, his comments on rapamycin are unnecessarily negative.
Conclusion

This thesis has demonstrated that Acarbose, in addition to extending lifespan, also ameliorates age-associated deficits in motor function and reduces left ventricular hypertrophy in males. These age-related effects could potentially be due to changes in cardiac metabolism with aging.
lousean.pdf (2.0 MB)