Just received Sirolimus order from buyershelp+reply@indiamart.com
Jagdish-2274930190-162775588-1@reply.indiamart.com
shipped via EMS & took about 10 days to clear customs.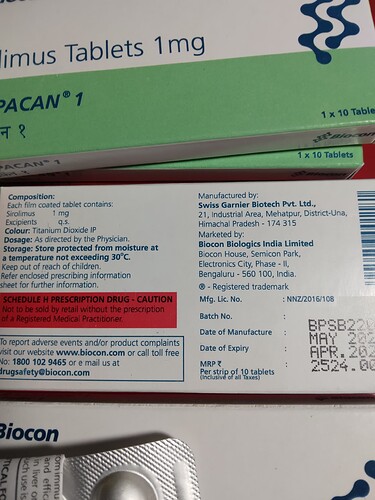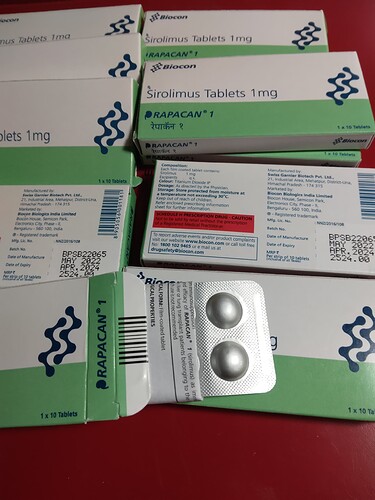 @mike666 What was your cost per box from RL Pharma / Jagdish?
10 days just to get out of customs? Maybe busier/slower due to holidays. Earlier this year I ordered from oddway and it was here 10 days from the order date.
My attempt at ordering through Varun in India:
Followed Varun website link on this thread: List of Reliable Pharmacies
Clicked on wanting a quote and filled in needing sirolimus. Put in my contact info.
Got inundated with about 30 emails from all different pharmacies on India Mart.
First email purported to be Varun. Email came from Pravin - Varun Medicals buyershelp+reply@indiamart.com
They gave me a quote of 10 1 mg tabs for $7. I replied asking what was next step to order. They sent me wiring instructions to a bank in India. No order form, shipping costs, etc. Am I supposed to wire them $70 for 100 tabs? They had a "Chat Now" button on the email which I clicked and then got the message below:
Wrong Link
You have clicked on an invalid link. Please make sure that you have typed the link correctly. If are copying this link from a mail reader please ensure that you have copied all the lines in the link.
This is the most scamy feeling, rinky dink, outfit I have ever dealt with. Am I supposed to take these guys seriously?
I've taken off the link to the Varun IndiaMART website, and left only the main Varun website. I'm hoping that helps people avoid all the spam that you can get from IndiaMART.
Yes - the India pharmacy sites are pretty basic/unprofessional (no order forms, everything via email, people communicate at a very basic level…).
When I first started trying these sites I sent a half dozen orders for $40 each to test the different pharmacies out and see if they were scams or what have you. Surprisingly (for me) they all filled the orders and I got the products with no problems at all. It is definitely all a very rinky dink system (for all of these companies), but it seems to usually work.
Thanks so much for your feedback on this. Helps a lot to talk about with someone familar with process.