It seems that we just need to move to one of these top areas to live longer (ah, if it was only this easy).
KEY FINDINGS:
Residents in the Bridgeport-Stamford-Norwalk metro area in Connecticut have the longest life expectancy in the U.S. at 83 years.
Six of the 10 country's metro areas with the longest life expectancy are in California and Florida.
Three of the 5 metro areas with the lowest life expectancy are in Alabama.
Jackson, Mississippi, and Mobile, Alabama metros have the lowest life expectancy among the 119 metro areas we analyzed.
See the top 20 metropolitan areas for life expectancy, and the worst 20 metropolitan areas: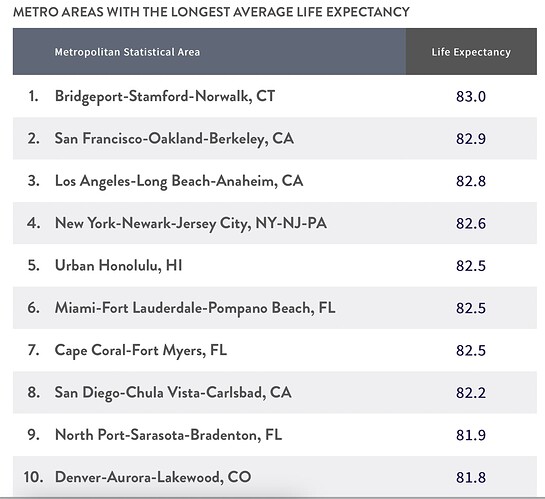 This study isn't the first to connect location with longevity. Researchers at Stanford and MIT found that moving to the Northeast, California and parts of Florida even after age 65 could grow people's remaining life expectancy by as much as 5 percent.
Researchers found "the areas with the least favorable effects on life expectancy are concentrated in the deep South and Southwest."