Current popular hypothesis: Rapamycin longevity effect may be more relevant to Cmax then the AUC.
In another way, the peak concentrations is more important, Rapamycin reaches its peak roughly at 2 hours, but due to its long half life time, it takes roughly 2 weeks to eliminate. If we can accelerate elimination rate after the peak time, then we can have less side effects while preserving the longevity effect.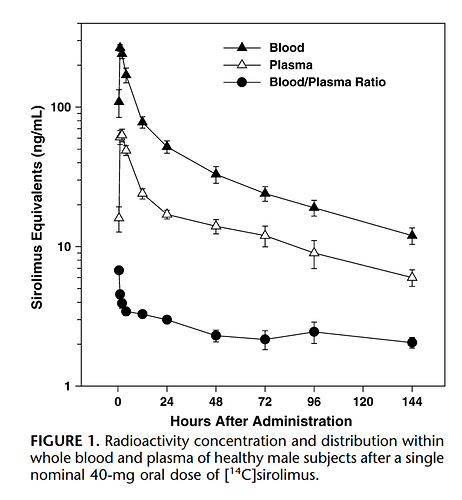 For my limited knowledge, Rapamycin is metabolized mainly by enzyme CYP3A, then the majority matabolites excreted in feces, if we can induce enzyme CYP3A, then we can increase rapamycin elimination rate.
https://www.pharmgkb.org/pathway/PA166165039/overview
If my understanding is right, then we can induce CYP3A in day 2 or day3 (after initial dose), hence shorten the half life time, then we have less side effects.
There are drugs that inhibit or induce CYP3A, but most inducers of CYP3A not act immediately, they need 2 weeks long or more to induce CYP3A, it is not appropriate in this scenario.
https://www.fda.gov/drugs/drug-interactions-labeling/drug-development-and-drug-interactions-table-substrates-inhibitors-and-inducers
However, I found there are some researches show that fasting increases CYP3A4-mediated metabolism, but I am not sure if that also works on rapamycin.
https://sci-hub.se/10.1124/dmd.114.062299
In rats, short-term fasting increased mRNA expression of the orthologs of human CYP1A2,
CYP2C19, CYP2D6, and CYP3A4 (P < 0.05)
Conclusions

Short-term fasting differentially alters midazolam metabolism by increasing CYP3A4-mediated metabolism but by decreasing UGT-mediated metabolism. In contrast, a short-term HFD did not affect systemic clearance of midazolam.
Do you know any way to accelerate the clearance of rapamycin?