Perhaps of interest to people in the SF bay area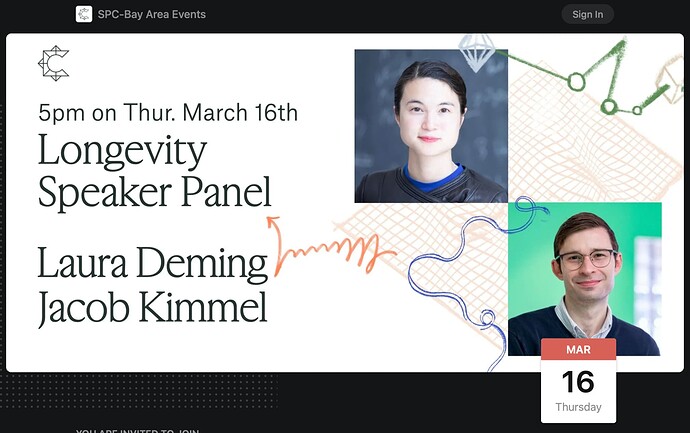 :
Join longevity luminaries Laura Deming and Jacob Kimmel for a wide-ranging discussion on aging—and the cutting edge science and companies trying to stop it. This speaker panel will be moderated by members of the SPC TechBio forum and followed by a happy hour for members and guests to meet and talk all things longevity.
​Laura Deming is a venture capitalist and anti-aging pioneer. Her work focuses on life extension and using biological research to reduce or reverse the effects of aging. Deming is a partner at and founder of The Longevity Fund, a venture capital firm focused on aging and life extension.
​At NewLimit, Jacob uses genomics and machine learning methods to identify and manipulate the genetic programs that define cell identity. Prior to NewLimit, Jacob led a research laboratory focused on epigenetic reprogramming as a Principal Investigator and Computational Fellow at Calico. Jacob received a PhD in stem cell biology from UCSF.