"This is a course for non-scientists to get an inside view of how research on aging can transform our health."
The course covers the Geroscience Hypothesis (aging as the major risk factor for chronic disease), the biology of aging, information on the molecular underpinnings of common age-related conditions (heart disease, cancer, neurodegeneration and diabetes) along with updates on recent discoveries in our labs and a primer for what people can do to promote healthy aging now.
Buck faculty Judy Campisi, Gordon Lithgow, Julie Andersen and John Newman contributed to the course, providing insights into the hallmarks of aging, neurodegenerative diseases, and efforts to move discoveries into the clinic, among others. The course also features animations and tips on how to evaluate health-related news stories.
The course is made possible by a grant from the Navigage Foundation and we are thrilled that reviews from early users have been terrific: "Just completed your free course for non-scientists on Gero Science. Enjoyed and learned a lot!"; "The course is easy to navigate. I would, and do, recommend the course to friends"; "Thanks so much for making this information available. I loved the course!"
Its Free! Enroll here:
See course outline below: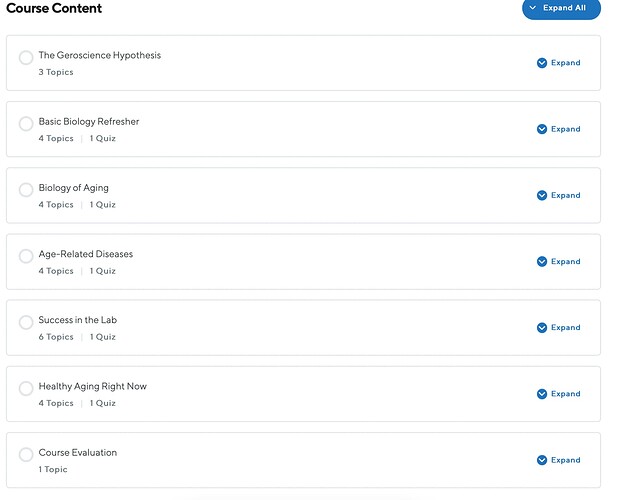 More good Buck Institute Content:
The Buck Institute also has a good podcast called "We're not gettin any younger, yet"