I wanted to wait until I'd been taking Rapamycin for six months before I did any blood tests, and I'm excited to share the results with you guys today! I'm always skeptical when people report effects that might be placebo, so it's fun to finally have some actual lab work to show you. (Spoiler: it's all good, except for one thing I'll share at the end.)
First, a quick review of my situation: I'm male, 46 years old. I take 10mg of Rapamycin every Saturday night. I've never had any noticeable effects from it at all (positive or negative). Since last year's lab work, I've also started taking the following stuff every day:
Metformin: 1000 mg
Vitamin B12: 1000 mcg
Vitamin D: 3000 mg
Omega 3: 360 mg
L-Theanine: 200 mg
Magnesium L-Threonate: 1300 mg
Lithium Orotate: 5 mg
Glycine: 2000 mg
Aspirin: 81 mg
NMN: 1000 mg
Tadalafil: 5 mg
L-Carnosine: 1000 mg
Extra Virgin Olive Oil: 1 oz
Apigenin: 600 mg (1 tbsp dry parsley)
Anyway, on to the lab work! On the Levine test, my estimated age has dropped from 41 to 36. Here is the comparison with measurements: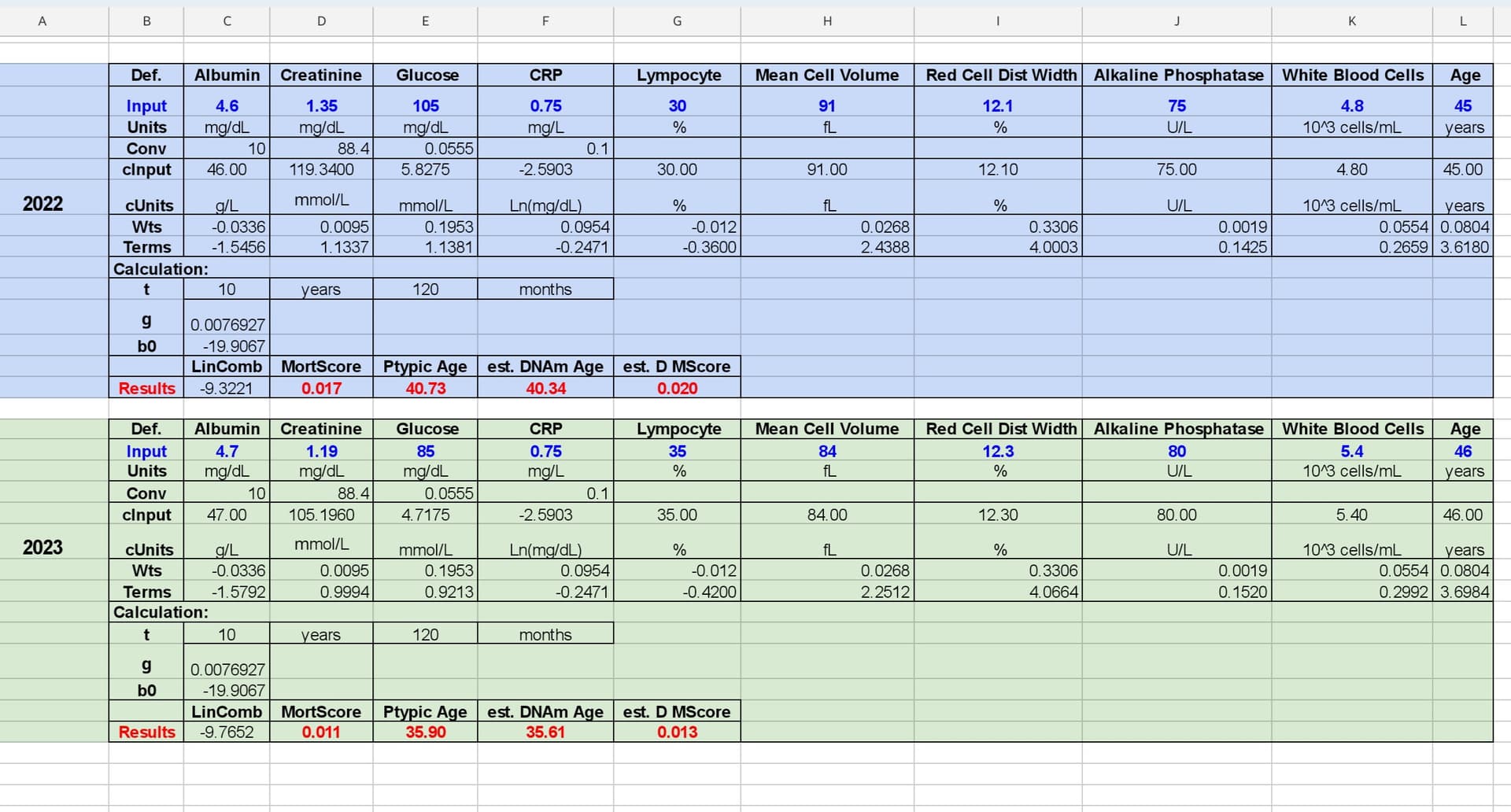 Also, on the Aging.AI test (which I had never used before today), my recent lab work gives me a predicted age of 34 (pretty close to the Levine test).
I've gained around 10 pounds in the last six months, but I think that's because I added 5g creatine daily and am doing more functional strength training.
The only negative development since I've started taking Rapamycin is my cholesterol levels, which have really jumped! My total cholesterol is now 255, my triglycerides are 152, my HDL is 54 and my LDL is 173. (Also, my RBC count jumped way up to 5.88, I don't know what to think about that).
Oh, and one other thing: I had my testosterone tested for the first time, it's at 595 (which I think is pretty good?)
Anyway, I hope you all find that interesting! I'm glad to take any feedback or questions, and I'll post another update like this in six months. Thanks again for all of the info you guys share, I really enjoy this forum.