Some interesting points:
The test reagents dissolved in ethanol (20 lL of each) were topically applied to both sides of the ear 30 min before and 3 h after each challenge of oxazolone on days 7, 10 and 13.
…
co-treatment with dasatinib, LCB 03-0110 and tacrolimus at concentrations of 0.02%, 0.05% or 0.1% reduced the ear swelling significantly in a dose-dependent manner
…

Therefore, this result suggests that dasatinib and LCB 03-0110 do not provoke skin atrophy after prolonged treatment, even at higher-than-normal concentrations.
…
we think that dasatinib and LCB 03-0110 might offer advantages over steroidal drugs in treating inflammatory skin disease because they do not induce skin atrophy, the major adverse side-effect of steroidal drugs.
…
we expect that they would have potent anticancer activity.* 33
They also note in the paper:
dasatinib suppressed TNF-a production following stimulation of Toll-like receptor signalling with lipopolysaccharide (LPS). 31

"However, treatment with dasatinib and LCB 03-0110 significantly reduced the induction by an average of 63.4% and 66.1% respectively.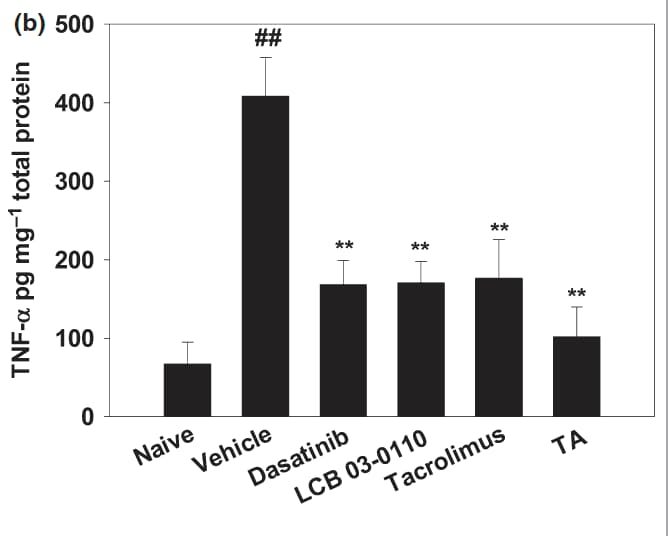 Another paper related to skin aging and inflammatory cytokines:
The role of cytokines in skin aging
Aged skin is characterized by a decrease in collagen content and skin thickness which result in dry, wrinkled skin that is easily bruised and takes a longer time to heal. Cytokines play a crucial role in the manifestation of these features of old skin. The pro-inflammatory cytokine tumor necrosis factor-alpha inhibits collagen synthesis and enhances collagen degradation by increasing the production of MMP-9. It also lowers the skin immunity and thus increases the risk of cutaneous infections in old age.
https://www.tandfonline.com/doi/full/10.3109/13697137.2013.802303
Full Paper: Sci-Hub | The role of cytokines in skin aging | 10.3109/13697137.2013.802303
Exercept:
TNF- α has a key role in inflammatory responses that occur in the skin. It is able to modulate the expression of the MMP gene and is responsible for inducing the production of MMP-9, an enzyme that causes skin aging by causing skin damage and does not allow its repair 52 . When the cells of the epidermis are exposed to persistent TNF- α , the production of MMP-9 is disturbed and the epidermis can be damaged irreversibly 52 .
Sounds like Dasatinib cream would be a good thing for our skin… significantly lowering inflammation and potentially removing senescent cells. I'm going to try a DIY project around this.
If others here are trying this - please do a pre and post photo (in identical lighting and conditions) to help demonstrate if its working. Perhaps do just one hand with the Dasatinib cream and one without (treatment as usual). And take photos every 3 months to compare.