Found a source in USA. New product
I'm only 1/4 through this thread, but I searched for "Amazon" and didn't find mention of the Amazon Clinic as a prescription source of low-dose oral Minoxidil. Last week, I did a text telehealth visit with a random doctor from the alpha clinic for $29. After uploading photos of my hair and explaining my symptoms (diffuse thinning), she wrote prescriptions for 1 year of 1mg finasteride (not sure I'll take it), and 6 months of 2.5mg oral minoxidil. My local pharmacy with GoodRx was cheaper than Amazon's pharmacy, so I had the meds sent there. Of the 4 available clinics for my state, only the alpha clinic will prescribe oral minoxidil. Forgive me if this was already posted somewhere and I missed it in my search.
This is the grean tea extract that acts a hair dye? Sorry I haven't been on for months, and there are so many messages in this thread…
The capsule green tea EGCG mixed in equal amounts… with the Reveratrol when combined makes a color of a reddish brown with blonde hint. The DMSO saturates into the hair shaft… makes it permanent… doesn't wipe off.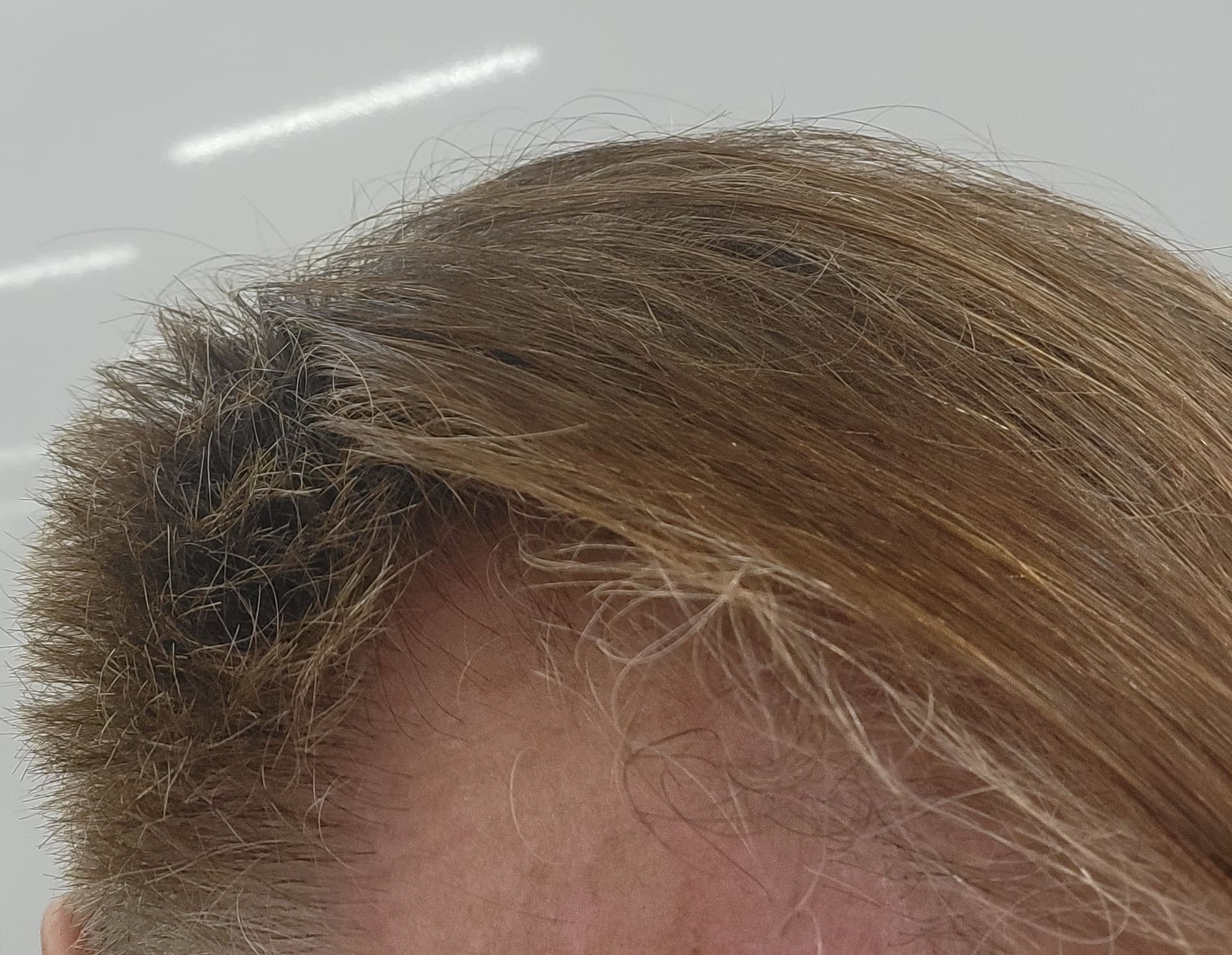 Took this pic just now. A nice healthy color… hair feels healthier. Pardon the messy morning hair… it is 6 am… flying out of Milano, Italy. Lol
Lol. Thanks, good to know

For now, my aim is the maintain my own color or reverse the partial graying "endogenously".
Would this work or help with hair pigmentation too? It doesn't mention anything about hair just skin healing but if it's melanin nanoparticles then would there not be some way it could help with hair too…
I decided to try Gr7 the grey hair reversal product posted by Bryan Johnson a few weeks back and I was pretty amazed at the results. I wasn't too grey but it's completely gone now. It's a completely clear liquid I'll definitely be ordering some more.

Yes, that's it. Worth a try I think.
Quite amazing. Do you have to use it every day? How long does one bottle last?
"The combination of natural ingredients and active substances ensures a visible effect within the first week of use, while the full-colour recovery takes about 21 days, depending on the individual structure and condition of hair."
How can it work so quickly on the visible hair if the effect of the treatment is on hair follicles? Doesn't the hair have to grow out again?
Good question Joseph. It is another type of dye but it acts differently. It isn`t the only brand on the market.
I think it depends on how much grey you have. Mine wasn't all that bad. The instructions say to use it twice a day for three weeks to restore the color then once a week to maintain it. I really only used it for two weeks and my color returned. I'm just starting the maintenance phase now.
My understanding is that it contains tyrosine, which helps stimulate the melanin in the hair bulb. I suppose it's a dye. But a colorless one. I was a skeptical but figured it was worth the experiment. Definitely an impressive change. I'd be curious to see how well it works on people with more grey.
So you used it only on gray hair?
I don't really have a lot of gray hair, starting to get some strands, I kind of like it sometimes especially in summer when sun bleaches my hair is really good but in winter it gets more visible… maybe I will try it. Costs around 40 EUR… if it is tyrosine only as active ingredient maybe a DIY solution is viable? What do you thing @Agetron?

You rub it into your scalp. I can't be certain that the only active ingredient is tyrosine, it's just that I read that it's crucial for melanin production. They currently have a Black Friday sale of about 15 percent off right now.
What is the product/ brand name of thedutasteride?
I'm puzzled.
Either it's a dye, which binds to and colours the hair shaft.
Or it switches on melanin deposition inside the shaft as it grows.
But, if it's a dye, surely it should work on everyone? This seems to work on most customers, but to varying degrees and some unlucky people have no results. (Going by product reviews.)
It's a clear liquid so it's not a dye per se, I think it's stimulating the hair bulb to produce melanin. The hair goes yellow before your natural color comes back in.
It does say on the website that results vary depending on what caused the grey hair. I really wasn't expecting much, but my grey has completely gone. That said, I didn't have all that much.