I initially thought this might be an online event, but sounds like an in-person event exclusively.
Hosted by Retro Biosciences: https://retro.bio
About this event:
Feast your mind while fueling your body: come enjoy two short talks by Elad and Dan, and engage with investors/scientists/builders over food & refreshments. Elad has succeeded by calling the future, and Dan is creating it.

E LAD GIL is a co-founder of Color Genomics. He is a renowned investor or advisor to companies including Airbnb, Anduril, Coinbase, Figma, Flexport, Gitlab, Notion, Samsara, Square, Stripe and others. Elad authored the High Growth Handbook.

D ANIEL GOODMAN is a synthetic and computational biologist, and a postdoctoral scholar in the Roybal and Marson laboratories at UCSF. He currently focused on engineering T cells and multiplexed assays. Daniel is an alumni of the George Church lab at Harvard.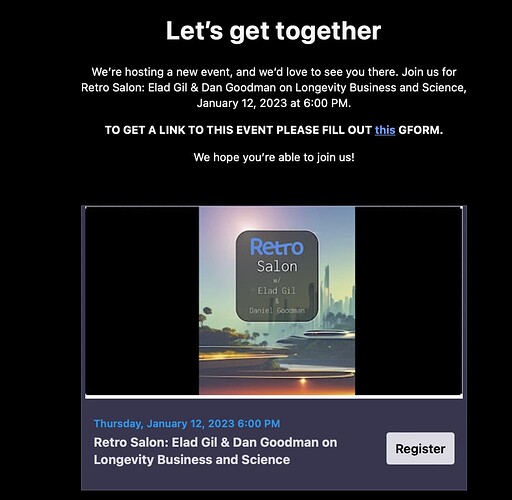 Free Seminar:
First fill out this form:
Then register here: