Anyone looked into Cobicistat?
Cobicistat: A case of mislabelled drug‐drug interaction risk?
DOI: 10.1111/bcp.14262
Cobicistat was licensed as a stand‐alone formulation by the European Medicines Agency (EMA) under the tradename Tybost® in 2013. Remarkably, cobicistat does not have a therapeutic effect on its own, but only acts as a CYP3A inhibitor. As a result, it improves oral bioavailability and reduces systemic clearance of CYP3A substrates. Cobicistat's indication is to increase plasma concentrations of certain antiretroviral agents, such as atazanavir, elvitegravir, or darunavir; this is also called "pharmaco‐enhancement." Cobicistat is mainly used as part of fixed‐dose combinations for the treatment of HIV infection, such as Stribild® or Genvoya® (boosted agent is elvitegravir) and Rezolsta® or Symtuza® (boosted agent is darunavir).
Cobicistat Versus Ritonavir: Similar Pharmacokinetic Enhancers But Some Important Differences
DOI: 10.1177/1060028017717018
Cobicistat is a structural analogue of ritonavir without antiviral activity. It has improved physiochemical properties compared to ritonavir and is a potent inhibitor of CYP3A and a weak inhibitor of CYP2D6. Cobicistat inhibits the transporters P-gp, BCRP, OATP1B1 and OATP1B3.8 Cobicistat 150 mg once daily has a pharmacokinetic boosting effect comparable with ritonavir 100 mg once daily.9

In contrast to ritonavir, cobicistat does not demonstrate any enzyme inducing effects on CYP450, UGT or P-gp.8 There is reduced activation of the pregnane X receptor which regulates expression of different drug-metabolizing enzymes and demonstrates the reduced impact of cobicistat on concomitant medications.10

[***]

Recently, an in vitro study demonstrated that ritonavir was more potent than cobicistat in overcoming rifampin-induced increase in darunavir clearance.45 These findings, along with the etravirine, tipranavir, carbamazepine and rifabutin interaction studies suggest that cobicistat may not be as effective as ritonavir in overcoming CYP3A4 induction in the presence of concomitant inducers. Therefore, coadministration of cobicistat-regimens with moderate-potent enzyme inducers should be avoided.
Ritonavir is the best alternative to ketoconazole as an index inhibitor of cytochrome P450-3A in drug–drug interaction studies
DOI: 10.1111/bcp.12668
Mean (± SE) RAUC values were: ketoconazole (15 studies, 131 subjects), 11.5 (±1.2); itraconazole (five studies, 48 subjects), 7.3 (±1.0); clarithromycin (five studies, 73 subjects), 6.5 (±10.9); and ritonavir (13 studies, 159 subjects), 14.5 (±2.0). Differences among inhibitors were significant (F = 5.31, P < 0.005). RAUC values were not significantly related to inhibitor dosage or to duration of inhibitor pre-exposure prior to administration of MDZ.

[…]

In a DDI study directly comparing the inhibitory effect of 200 mg cobicistat and 100 mg ritonavir on clearance of oral midazolam, the mean RAUC values for midazolam were 19.0 for cobicistat and 23.9 for ritonavir
Cobicistat versus ritonavir boosting and differences in the drug–drug interaction profiles with co-medications
DOI: 10.1093/jac/dkw032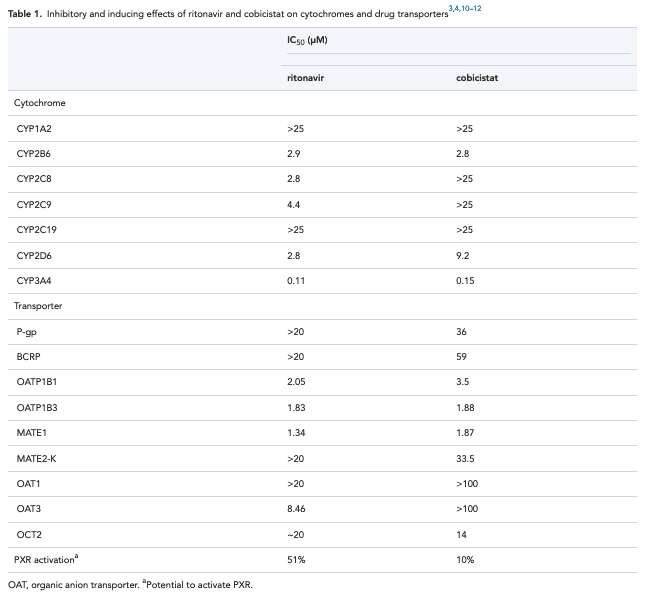 Boosting axitinib exposure with a CYP3A4 inhibitor, making axitinib treatment personal
DOI: 10.1080/0284186X.2017.1311024
Inhibition of human cytochromes P450 in vitro by ritonavir and cobicistat
DOI: 10.1111/jphp.12820
Ritonavir and cobicistat both were strong inhibitors of CYP3A4, with IC50 values of 0.014 and 0.032 μm, respectively.
In-vitro inhibitory potency of ritonavir, cobicistat, and positive control inhibitors vs 6 human CYP isoforms
DOI: 10.1111/jphp.12820