People here who have read in-depth on this topic and have an opinion;
What is your opinion on the mechanism by which Rapamycin extends lifespan?
And, How does this opinion drive your thoughts and approaches to longevity?
Mechanisms by which rapamycin (and rapalogs) might extend lifespan
1—Less protein and lipid synthesis which may decrease proteotoxic stress just by having fewer proteins made that your protein degradation system has to deal with
2—Autophagy , but, rapamycin and rapalogs don't consistently induce autophagy
It's cell-dependent—so how much of a role autophagy has in the benefits of rapalog is probably tissue-dependent
In many cell lines, there's no induction of autophagy
In the few cell lines that do have induction of autophagy, it's hard to distinguish the tissue of origin (e.g., Is it the liver versus the cells from neurons?)
3—Impact on senescence-associated secretory phenotype(SASP). Regulation of the SASPs (similar to metformin)
Senescent cells accumulate as we age resulting in the secretion of inflammatory cytokine

Inhibiting mTOR will decrease SASPs, which will decrease systemic inflammation

Rapalogs aren't great at inducing autophagy, but RTB101 at high doses was very good at inducing autophagy although it's hard to achieve those concentrations in the brain

But… if you combine a rapalog with RTB101, you can lower the concentration of RTB101 that's needed to induce autophagy so you don't have to get so much across the blood brain barrier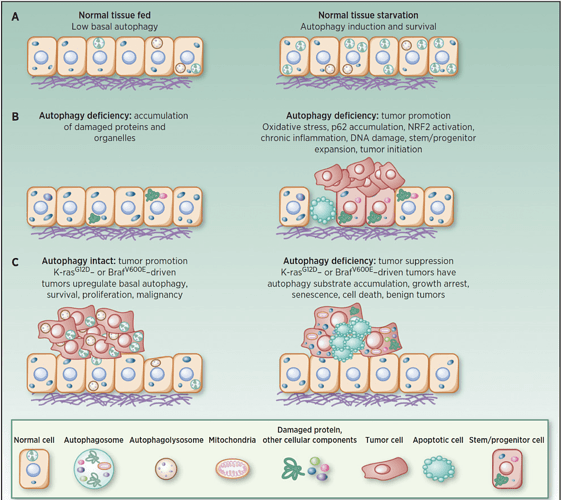 Figure 1. (Above)
Role of autophagy in starvation, tumor suppression, and tumor promotion:
A, induction of autophagy-mediated survival in starvation.
B, autophagy deficiency produces the accumulation of damaged proteins, particularly p62, and organelles. This causes cell death, tissue damage, DNA damage, oncogenic signaling, chronic inflammation, stem/progenitor expansion, and tumor initiation.
C, autophagy is activated in tumors and promotes survival and growth, whereas loss of autophagy causes substrate accumulation, tumor cell growth arrest, senescence, and death and restricts tumor progression to benign disease.**
Image credit: (White et al. 2015)
Stressors that induce autophagy
Three pathways at the mechanistic level :
1—The mTOR pathway, which is mostly sensing amino acids
2—AMPK pathway, which is mostly sensing energy and ATP in general
3—The Acetyl-CoA protein deacetylation pathway, which is also just basically sensing substrate of fatty acid and glucose
Those are three ways that low nutrients can still trigger the same pathway
4—Additionally, stresses that result in i) organelle damage–such as depolarization or dysfunction of mitochondria, ii) activation of protein misfolding, and iii) generation of protein aggregates
What are some stresses that come from outside of the cell that induce autophagy?
Temperature extremes would induce protein misfolding and induce autophagy as a remedy for that
Exercise induces autophagy very potently because exercise damages the muscle, and autophagy is one of the processes that helps mitigate the damage that occurs during damage
Hypoxia potently induces autophagy

Tumors are well known to have hypoxia in the center
When Eileen engineered tumor cells to be genetically deficient for autophagy, you'll see that the tumor is hollow, meaning…

the further the cells get from a blood supply, the more susceptible they are to hypoxia, and they're dead
The middle of a tumor is hypoxic… that's where the autophagy is most active, and if you genetically knock out autophagy in the tumor, you end up with a hollow tumor because the tumor cells in the middle don't survive.
Importance of autophagy to the brain
–Using Alzheimer's disease specifically as an example…
When you think about the toxicities that are driving neurodegeneration, there's a lot of crap that's basically getting accumulated in neurons
This would be an elegant way to suggest that autophagy is keeping that at bay
The brain, therefore, is extremely autophagy dependent
-What other tissues are more (or less) autophagy dependent than others?
When looking at an adult mouse that lacked autophagy…
The lungs looked relatively normal suggesting it's not autophagy dependent
The liver , on the other hand, was very sensitive

If you did a liver-specific knockout of an essential autophagy gene, they developed fatty liver disease
Suggesting that autophagy probably plays a role in preventing

i) fat accumulation, and
ii) accumulation of mallory bodies, which are large protein aggregates composed of a protein called p62
–The difference between the brain and liver is that…
The liver manages to tolerate it, the brain does not and it just accumulates all the crap
-Was there evidence that the brain, in some last ditch effort to survive, was undergoing more apoptosis of neurons?
Yes, a common feature is increased apoptosis in the brain
"This has been part of a major effort to generate autophagy stimulators as a remedy or as a means to delay neurodegenerative diseases . "
The mechanisms that can trigger autophagy to support longevity [40:00]
Fasting
"Fasting is one of the most potent stimulators of autophagy. I spend a lot of time thinking about how does fasting fit into our toolkit of longevity…
…I think it's very safe to say, based on all the animal data, and frankly all the centenarian data, that the key to living longer is delaying the onset of chronic disease…
…So even when you look at centenarians who are genetically gifted with tools to live longer, if you unpack what the gift is, it's delaying the onset of the disease, not living longer once you have the disease…
…So the centenarians, once they get cancer and once they get heart disease, they die at about the same rate, over the same duration, as the rest of us schmucks. The difference is, they get those diseases 20-25 years later. And again, that suggests to me that if you want to live longer, you have to delay the onset of these things, not live longer once you have them…
…It's hard to think that fasting doesn't play an essential role in that when you realize the role that fasting plays in the mitigation of Alzheimer's disease and metabolic disease. "
Molecules that induce autophagy
"We can also induce autophagy sort of pharmacologically or chemically. The first thing that would jump to your mind is anything that mimics fasting. The first thing that comes to mind would be metformin, rapamycin, and things like…
…We talked about these huge pathways that tell the body nutrients are scarce. So when mTOR activity is down, that's a sign that we're deficient in amino acids. We can also do that with rapamycin…
…When AMPK is up, that's the cell being told we're deficient in ATP. Another way that you can do that is to give Metformin. "
Evidence for cancer treatment by blocking autophagy [42:30]
Eileen had two questions she wanted to answer :
-Question 1—If you inhibited autophagy in an adult mouse, what would happen?
-Question 2—When you knock out autophagy in a mouse with cancer, which dies first: the mouse of the tumor?
This mouse had lung cancer
First, shut the autophagy pathway off
Then, see which died first, the mouse or the tumor
The answer ? ⇒ Tumor died first