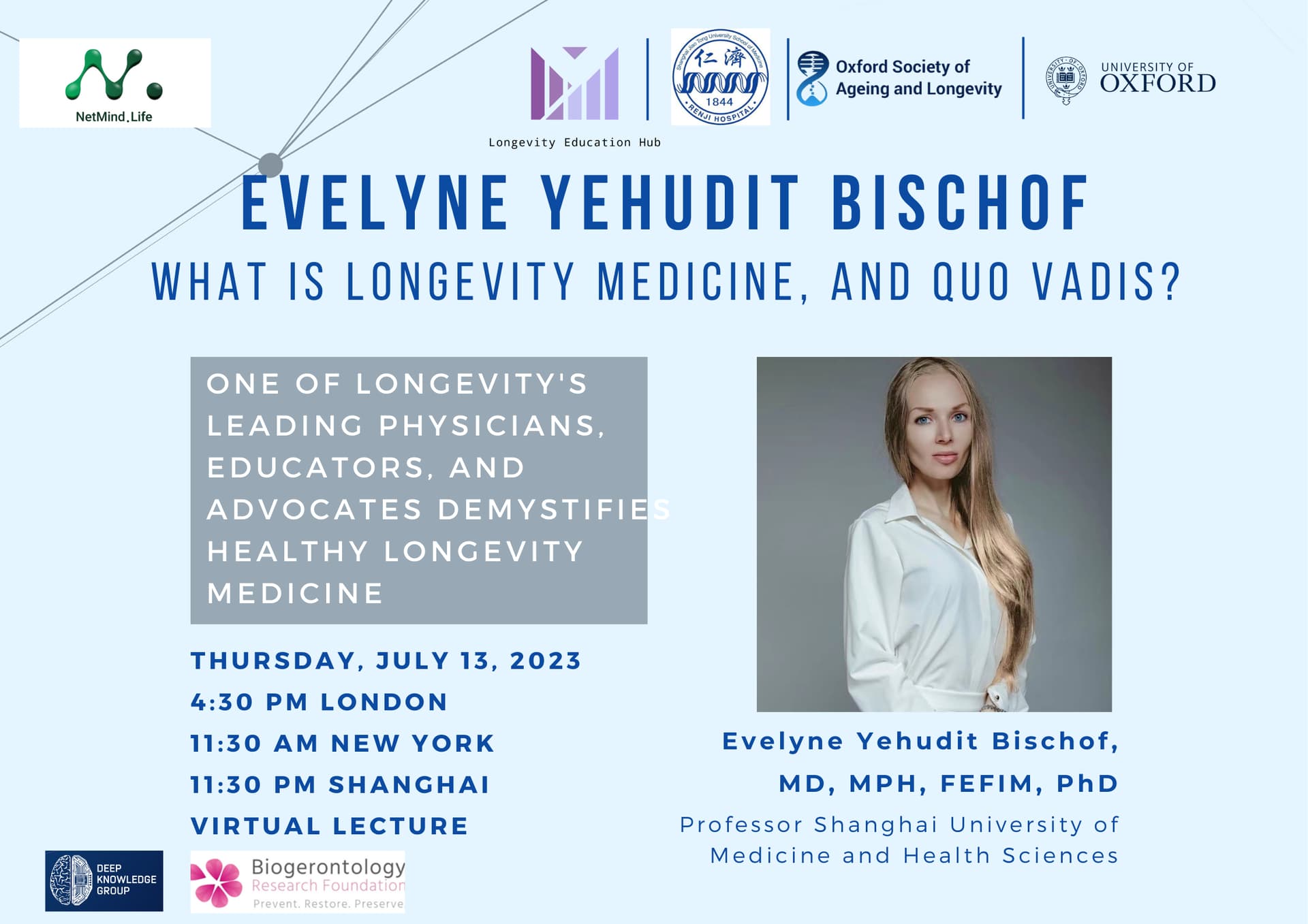 Dr. Evelyne Bischof: What is Longevity Medicine, and Quo Vadis?
Thursday, July 13th:
4:30 pm UK
11:30 am NY
11:30 pm Shanghai
The Oxford Society of Ageing and Longevity is delighted to present an exclusive online event featuring Prof. Evelyne Yehudit Bischof, MD, PhD, a specialist in Internal Medicine and renowned researcher in the fields of Oncology and Longevity Medicine. Join us TOMORROW, Thursday, July 13th at 4:30 pm UK time, 11:30 am NY time, or 11:30 pm Shanghai time, for an enlightening evening as we delve into the intersection of aging, healthcare, and longevity.
This online event offers a unique opportunity to hear directly from Dr. Evelyne Yehudit Bischof as she shares her vast knowledge and experiences in the areas of longevity medicine. Whether you are a medical professional, researcher, student, or simply intrigued by the emerging field of longevity medicine, this event promises to be enlightening and thought-provoking.
Dr. Evelyne Yehudit Bischof, is a trailblazer in the field of healthy longevity medicine, has a reputation that spans continents. Prof. Bischof serves as the Chief Physician Associate in the Department of Internal Medicine and Medical Oncology at the renowned University Hospital Renji, associated with Jiaotong University, Shanghai. She also holds the prestigious title of Professor of Medicine at Shanghai University of Medicine and Health Sciences. Prof. Bischof has solidified her stature as a leading medical professional through her comprehensive work in internal medicine, medical oncology, healthy longevity medicine, artificial intelligence in health, precision medicine, biogerontology, and geronto-oncology.
Prof. Bischof's formidable reputation is further enhanced by her groundbreaking clinical work in the realm of longevity. Her role as the Director of the Longevity Department at Sheba Medical Center and as a longevity concierge physician at Human Longevity Inc. has placed her at the forefront of aging practice. This exceptional commitment to the advancement of longevity science is further demonstrated by her positions as the co-founder and Vice-president of the Healthy Longevity Medicine Society and as the Head of the Scientific Advisory Board for the Longevity Science Foundation. She has also showcased her research prowess through more than 150 peer-reviewed papers, contributing significantly to both Asian and European scientific literature.
The depth of Prof. Bischof's professional expertise has been honed by her extensive clinical and academic work at premier institutions worldwide. After a decade of practice in Boston, New York, Shanghai, and Basel, she emerged as an expert in her field, boasting affiliations with high-profile institutions such as the University Hospital of Basel, Fudan Cancer Institute and Hospital, Zhongshan Hospital, and Shanghai East Hospital. The professor's distinguished training record includes Harvard Medical School-affiliated hospitals such as Mass General Hospital, Beth Israel MD, Dana Farber Institute, and Columbia University NYC. She has also had the privilege to train in Fudan University hospitals, Shanghai, and University Hospitals of Zurich and Basel in Switzerland. Prof. Bischof's engagement with the Swiss board as an internal medicine specialist further underscores her standing as a leading figure in global healthcare.
Please register to secure your virtual spot and mark your calendar for this exciting online event.
With warm regards,
The OSAL Committee