If rapamycin delays wound healing, it might be good to have something available to support and enhance healing of wounds.
Two products which are often on hand and may promote healing are curcumin and tretinoin. Mixed with an antibiotic ointment, this combination would seem to me to be preferable as a salve than antibiotic ointment alone, Vaseline, or cortisone cream.
doi: 10.2174/1389201017666160721123109.
Wound Healing Effects of Curcumin: A Short Review
Wound healing is a complex process that consists of several phases that range from coagulation, inflammation, accumulation of radical substances, to proliferation, formation of fibrous tissues and collagen, contraction of wound with formation of granulation tissue and scar.
Curcumin, the most active component of rhizome of Curcuma longa L. (common name: turmeric), has been studied for many years due to its bio-functional properties, especially antioxidant, radical scavenger, antimicrobial and anti-inflammatory activities, which play a crucial role in the wound healing process. Moreover, curcumin stimulated the production of the growth factors involved in the wound healing process, and so curcumin also accelerated the management of wound restoration. The aim of
DOI: 10.1016/j.lfs.2014.08.016
Curcumin has been shown to possess significant anti-inflammatory, anti-oxidant, anti-carcinogenic, anti-mutagenic, anti-coagulant and anti-infective effects. Curcumin has also been shown to have significant wound healing properties. It acts on various stages of the natural wound healing process to hasten healing. This review summarizes and
Although the value of retinoids in chronic wounds is unclear, topical tretinoin (0.05-0.1%) has been shown to accelerate re-epithelialisation of dermabraded and chemically peeled wounds in humans, and partial and full thickness wounds in animal models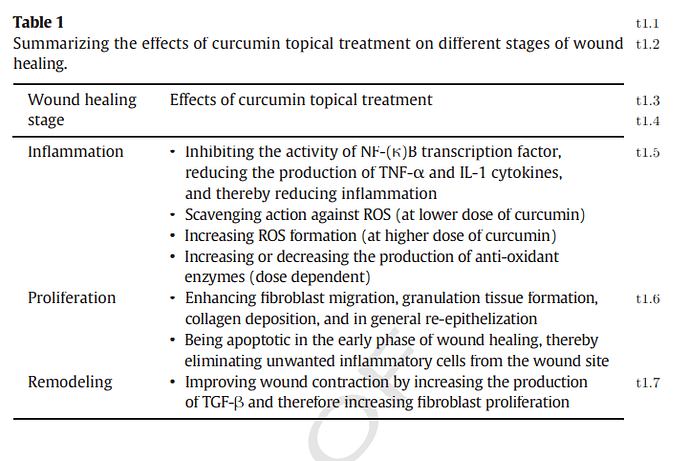 Any thoughts about this idea? How would you proportion the ingredients?