Hi I'm 27 and have been taking rapamycin 6mg a week for around a month now. No side effects.
I'm thinking about adding dasatinib and quercetin to my anti aging regime stack as I heard its a powerful Senolytic that removes senescent cells (1 of the hallmarks of aging).
As i'm in my 20s I think I wont have lots of senescent cells compared to a 50 year old so I'm thinking about starting a small dose.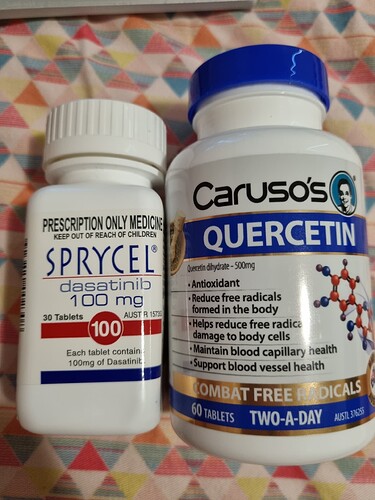 I have 30 , 100 mg tablets so they should last me a long time as I believe you only take the dose every 6 months to 1 year? (not 100% sure).
I was wondering if someone could give me info on the dosage for dasatinib and quercetin and how frequent I should take it? 3 days once a year or every 6 months? And what are the side effects? And if you were 27 would you take it? I'm already taking rapamycin, so I think it should be ok. I want to prevent aging as much as possible so thats why i want to start in my 20s.
thanks so much.