I hear there are clinics in Roatan that do it (I might try soon). I don't know the risks though…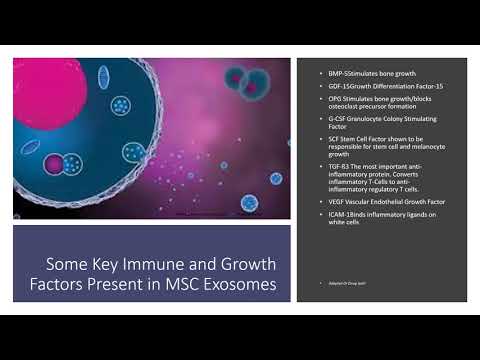 MSC-exosomes contain at least 170 different miRNAs [22] and 304 proteins [23], along with an indefinite number of DNAs, mRNAs and metabolites [12]. Because they contain a large number of bioactive molecules, MSC-exosomes have attracted great interest in the field of regenerative medicine. Accordingly, numerous studies have attempted to assess whether the infusion of MSC-exosomes can serve as an alternative strategy to repair tissue damage, and emerging results have mostly revealed that MSC-exosomes have therapeutic effects similar to those of their parental MSCs [24]. Moreover, MSC-exosomes have several advantages over MSCs. (i) MSC-exosomes are long-lasting and can be stored at −80 °C without affecting their biological functions [17], whereas cryopreserved MSCs exhibit impaired immunoregulatory and pro-regenerative properties compared with fresh MSCs [25]. (ii) The membranes of MSC-exosomes are enriched in sphingomyelin, cholesterol, ceramide and lipid raft proteins, enabling MSC-exosomes to spread in vivo regardless of biological barriers, such as the blood-brain barrier [26], for example, even when they are delivered via an intravenous injection, MSC-exosomes can be detected in injured neurons in the brain [27]. (iii) Infusion of MSC-exosomes elicits minimal immune rejection due to their complete lack of expression of major histocompatibility complex (MHC) molecules [28,29], which prevents their rapid clearance by host immune cells. For instance, MSC-exosomes were found to remain in a recipient for a significantly longer time than MSCs after infusion [28,30], indicating that they can perform their biological functions in vivo for a relatively long time. (iv) Infusion of MSC-exosomes can avoid several stem cell-associated challenges, such as the risk of spontaneous tumorigenesis induced by MSCs [31,32]. (v) The potential secretion of exosomes by MSCs can be impacted by various factors. For example, maintaining MSCs in a physiological state in an in vitro culture system can impact their production of exosomes with a specific phenotype in terms of biological activity [33]. Notably, although incubating MSCs with an IFN-γ plus TNF-α mixture in vitro reduced their proliferation, the production of exosomes was not adversely affected [28,34].
I had an exosome treatment for my "bad" knee–along with PRP and my own stem cells–in an attempt to avoid a knee replacement. It worked, and I also think the anti-inflammatory effect of rapamycin is now playing a big role in me having a functional knee. The MRI previous to all this showed " vast areas of cartilage loss, a large lateral osteophyte, torn meniscus, bone edema, and a Baker's cyst." It was painful to walk. Now I walk, swim, & ride my horse with no problem. I have a little creakiness where that bone spur is, but it's no problem.
I've been wanting to try it ever since I found out what exosomes were.
If I had enough cash I'd set up my own lab to do it just for myself.
The trouble with commercial labs is you trust that they're doing the right thing…but you have no way of knowing if they are.
There's a telegram group called research collective where they discuss it - they also had MUCH increased energy after it too…
I might meet some ppl in it when I'm in Roatan
Would love to hear more about this